An accessible port
Alsace Rotterdam Express increases to four round trips
03 October 2019
The Alsace Rotterdam Express between Rotterdam and Strasbourg/Kehl increased its frequency to four round trips a week at the end of September. The container shuttle which was established in 2015 will now call at all deep sea terminals on Maasvlakte.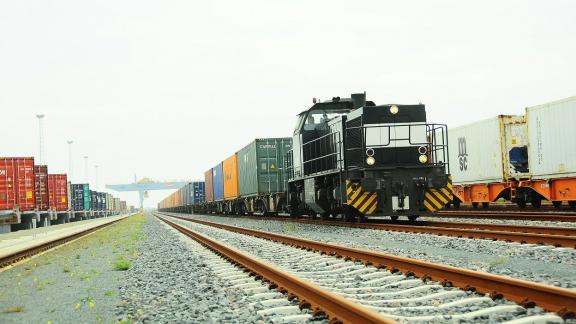 The train, an initiative of the C3C collaboration between Danser Group, Haeger & Schmidt Logistics and Ultra-Brag, started four years ago with two rounds. At the beginning of 2018, a third was added and now the frequency has been increased to four times a week. With the expansion, the capacity will be around 360 TEU per week in both directions.
Choice and flexibility
From the French Alsace and the German Baden Württemberg a lot of paper, wine and beer is transported to Rotterdam, as well as automotive products. From Rotterdam it is a diverse cargo that goes eastbound.
In addition to the transport solutions that are already offered per barge, this gives shipping companies, forwarders and direct shippers choice and flexibility. That seems to be a success. By train, the cargo arrives at its destination within 24 hours; one to two days faster than by water. In addition, the railways are, of course, a good alternative in times of low water.
The shuttle departs from Rotterdam on Mondays, Wednesdays, Thursdays and Saturdays and calls in at APM, APM-II, ECT Delta, ECT Euromax and RWG. The trains leave Strasbourg/Kehl on Tuesdays, Thursdays, Fridays and Sundays.