Innovation
Always looking for something new
10 July 2019
Making waves #5
In Rotterdam we are continuously searching for answers to make the port smarter, more efficient, better and more sustainable. How have partners in the port addressed this, why, and what could they have done smarter?
Vincent Wegener is co-founder and CEO of Captain AI and co-founder of RAMLAB and RDM Next. Captain AI develops software for safe autonomous sailing. This will make the port more efficient, more sustainable and will improve safety.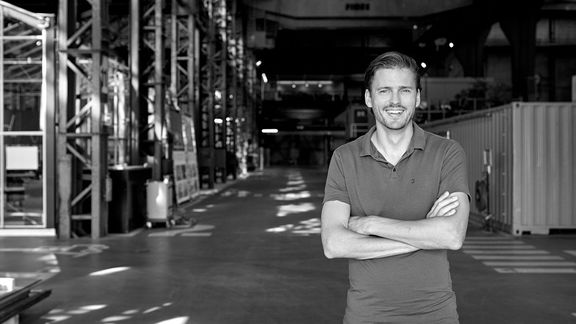 'As a teenager I always looked forward to the moment when KIJK, the technology magazine, would arrive in my letterbox. This was my sustenance and source of information. I'm a huge fan of technology, innovation and progress. But it always seemed as though that innovation took place somewhere else in the world; in Silicon Valley or Japan. I always thought "we should be doing that here!"
I studied business administration, as I found it interesting to explore both worlds. How can you scale up and commercialise technology using research and development? There's an enormous difference between now and ten years ago, when I graduated: Rotterdam has embraced innovation. It is important that the port develops in a smart way, because things can always be improved, and every improvement is progress. The Rotterdam innovation system is open for improvement and innovation; we have a fantastic opportunity to get things done here. And thanks to the development of RDM and the ecosystem, I can now also realise my dreams here.
For instance, I started RDM Makerspace (now RDM Next) in 2013 together with a co-founder. And in 2018, together with a team, we founded Captain AI. We are examining, with the Port of Rotterdam Authority, how to enable autonomous sailing in the port complex. Autonomous sailing entails a vessel arriving at the port, loading or unloading and departing again using an artificial, computer-controlled captain. We are doing this to make the port more efficient and sustainable and to improve safety.
We are developing an AI for this that we subject to millions of complex scenarios in a maritime simulator. For instance, we can use the simulator to simulate a severe snowstorm. By using this Artificial Intelligence, the software learns to take the right decisions itself. We are testing this on the Floating Lab, the relief vessel RPA3, which the Port Authority has equipped with cameras, measurement equipment and sensors.
Captain AI received a € 300,000 investment from UNIIQ investment fund in early July 2019 for the further development of the first fully autonomous vessels, which gives us space for further growth and innovation. And that's very much needed, because there's a huge shortage of shipping personnel, while the ports are becoming increasingly busy. A smart solution such as autonomous sailing can help resolve that problem. Autonomous sailing can also ensure a safer environment. Over 75% of accidents are currently caused by human error, such as falling asleep or paying insufficient attention. A computer is always alert and can work 24/7. Another advantage of autonomous sailing is that we can design a vessel differently. For instance, you don't need facilities such as a shower, kitchen or beds for the crew. And this in turn saves on fuel.
What we can do even smarter in the port of Rotterdam is to dare to think bigger. We're great at devising and developing new things, but scaling up requires large amounts of capital and that is still often lacking, which prevents us making a success of certain initiatives.
When I look to the future, I see the first autonomous vessels sailing in the Port of Rotterdam within the next five years. I think that the Netherlands will be the first; our country is taking the lead in innovation, digitisation and the smart port. Although it will probably be a neck and neck race with port of Singapore. By that time, we'll also be seeing many more electric vessels. The speed of innovation is sometimes underestimated and sometimes overestimated. I'm also involved with RAMLAB, the first field lab with 3D metal printers that focuses on port-related industry. This enables us to print parts when and where they're needed. With RAMLAB, we manufactured the world's first 3D-printed ship's propeller in 2017. Within a year, which was much earlier than we had planned! Some things are going less rapidly than expected though. In the early 1990s I read in KIJK that we would be able to buy a ticket for space travel by around 2020. I thought, great, I'll be around 40 then and will still be fit enough. But it doesn't look as though that will be happening any time soon. But the great thing about innovation is that you can always look forward to something new, something you can use to improve the world!'