Energietransitie
Biofuel pilots for sea-going vessels in Port of Rotterdam
25 March 2019
The Port of Rotterdam has been at the centre of two biofuel trials over the past few days to enhance the sustainability of sea-going vessels. Under the flag of the Dutch Sustainable Growth Coalition (DSGC), multinationals FrieslandCampina, Heineken, Philips, DSM, Shell and Unilever took the initiative to collaborate with AP Moller-Maersk to supply a triple-E container vessel with fuel containing up to 20 per cent sustainable biofuel.
The Maersk container vessel is now en route for Shanghai, where it is expected to arrive in June. The pilot's CO2 savings are equivalent to the annual emissions of over 200 households or 12 million car kilometres.
Søren Toft, Chief Operating Officer at AP Moller-Maersk: 'We will need huge breakthroughs in the coming ten years if we are to achieve our net zero CO2 objective by 2050. Maersk can't do this alone. That is why this collaboration with DSGC members is such an important step towards identifying and developing low-CO2 solutions.'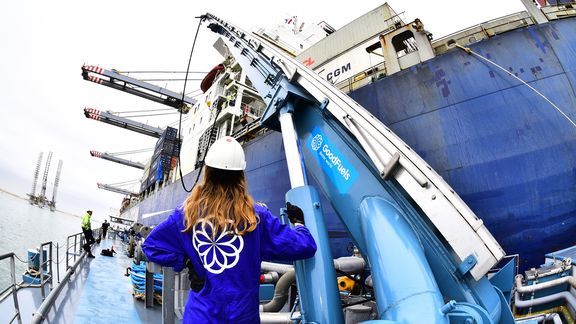 Supported by the Port of Rotterdam Authority, IKEA Transport & Logistics Services, container company CMA CGM and the GoodShipping Program are also initiating a trial with sustainable biofuels in container shipping.
For the first time, a container ship from CMA CGM has been bunkered with a sustainable version of heavy fuel oil. The sustainable bio fuel oil, supplied by Dutch company GoodFuels, can be used without modifications being required to the engine.
Dirk Kronemeijer, CEO of The GoodShipping Program: 'The objective of our programme is partly to enable sea freight shippers to make the switch now from fossil fuel oil to a really sustainable CO2-neutral bio fuel oil. We also want to demonstrate that we can really accelerate the energy transition in shipping by encouraging improved collaboration throughout the chain.' More information about this project can be found on the GoodFuels website.
According to Port Authority CEO Allard Castelein, this demonstrates that 'freight owners play in important role in reducing CO2 in the shipping industry. We have reserved €5 million over a 4-year period to support these kinds of shipping industry initiatives.'