An accessible port
Bridge parts transported for second Theemsweg route bridge
22 August 2019
Parts are being transported this week (34) for the second arch bridge near the Thomassentunnel, which is being constructed along the Theemsweg route. The bridge parts will be transported by water in three shipments from Hollandia Infra at Krimpen aan den IJssel to the construction site near the Thomassentunnel.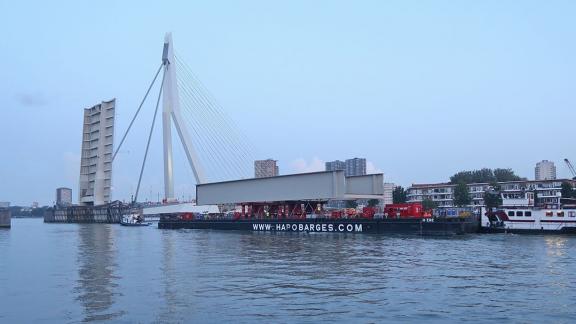 The first load of some 500 tonnes passed beneath Erasmusbrug on early Tuesday morning. 'It's a serious steel construction work that's passing through here', explained Hollandia Infra's Guus Olierook on Radio Rijnmond. Hollandia is one of five companies in the SaVe consortium, which was contracted by the Port of Rotterdam Authority to install the substructure for the rail route.
Parts for the other arch bridge along the Theemsweg route were transported from Iemants in Antwerp to the construction site at Rozenburgsesluis last month.
The bridges will be assembled later this year and manoeuvred to their place next year. They form part of the Theemsweg route, an over four-kilometre new rail route through the Port of Rotterdam. This will be completed by end 2021, once the superstructure (track and associated systems) has been installed in a follow-up contract. The Theemsweg route is a solution for the capacity bottleneck at the Calandbrug near Rozenburg.