Celebratory opening of BPA Rotterdam Logistics Center
01 November 2021
During a celebratory ceremony, Busan Port Authority officially opened the BPA Rotterdam Logistics Center. The 30,000 m2 distribution centre is located in Distripark Maasvlakte West and contributes to shorter, more efficient logistic chains between Korea and Europe.
Busan Port Authority was the first customer of the now fully released Distripark Maasvlakte West. Logistically this 78-hectare site is one of the top locations in the Netherlands. Companies establishing their businesses here literally find themselves at the centre of Europe's largest container hub, from which all major European economies are accessible within 24 hours.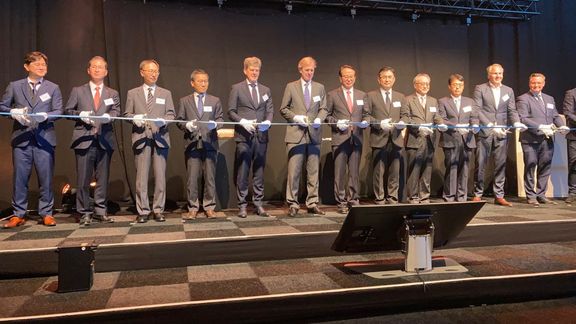 Distripark Maasvlakte West
Distripark Maasvlakte West is situated just a stone's throw from high-frequency deep-sea, short-sea, inland shipping and rail connections. The new Distripark's location also provides easy access to the A15 motorway, the Maasvlakte Plaza truck parking area and the existing Maasvlakte Distripark. In addition, the Betuweroute freight railway connects the Maasvlakte with the European hinterland. With all (deep-sea) terminals nearby, unloaded cargo reaches the warehouse in no time, resulting in short, reliable and therefore, safe logistics chains.