Sustainability
Conference on plastic pellets polluting the banks and waters of Rotterdam
01 October 2020
On 29 September 2020, a roundtable was hosted in Rotterdam on the plastic pellets found in the water and on the banks in various sections of the port. The conference is an initiative of manufacturer Ducor Petrochemicals, the Port of Rotterdam Authority and PlasticsEurope, the European sector association for the plastics manufacturing industry. The digital conference is intended to raise awareness of this issue, take stock of which parties are involved and intensify collaboration aimed at developing solutions. The conference will be attended by representatives of numerous private firms, government agencies and NGOs.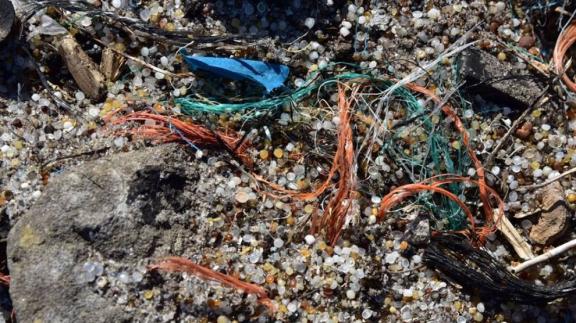 Many of the banks and waterways in the port of Rotterdam are littered with plastic pellets. These pellets are produced by a variety of companies, and are used by other parties in turn as a feedstock for all sorts of plastic products. Earlier this year, the environmental organisation Plastic Soup Foundation alerted Ducor Petrochemicals (Ducor) to the pellets strewn across the area around its production location. Ducor took this criticism to heart and in response immediately drew up a plan of action. The implemented measures have succeeded in halting the loss of pellets at the firm's facility.
While cleaning up the banks and water, workers came across a wide range of different pellets – many of which are produced by other parties besides Ducor. Pellet pollution is a complex phenomenon. Both in Rotterdam's port area and beyond, this problem involves a range of sources, owners, polluters and responsibilities.
First step
For this reason, Ducor, the Port of Rotterdam Authority and PlasticsEurope decided to jointly examine which avenues there are to take on this pollution by means of a large-scale, broadly supported programme. Today's conference forms the partners' first step in this context. In view of the situation around COVID-19, the conference has taken the shape of a digital event.
The conference programme includes a plenary session, which is also participated in by the Plastic Soup Foundation, as well as several break-out sessions. During these sessions, the attendees will be delving deeper into the history of this problem and discussing regulations and enforcement, the need to raise awareness and plans for the future. At the end of the conference, participants will also formulate various follow-up steps. Through this constructive meeting, the initiators hope to open the way for everyone involved to jointly take on this problem and prevent further pollution in the future.