Energy transition
Construction carbon-neutral juice plant innocent drinks reaches highest point
09 December 2020
The construction of the brand-new innocent plant in the port of Rotterdam has reached its highest point. At the Rotterdam Food Hub, innocent is building a carbon-neutral smoothie and juice plant, also known as 'the Blender'.
The steel construction of the plant and the automated warehouse has been erected. Work on the walls and roof is in full swing, and six juice tanks of 250,000 litres each have been installed. Recruitment of additional staff of the Rotterdam plant of the company is in progress. Eventually, the plant will staff some 200 persons. Meanwhile, about 40 of them have been recruited and are currently at work in their respective jobs.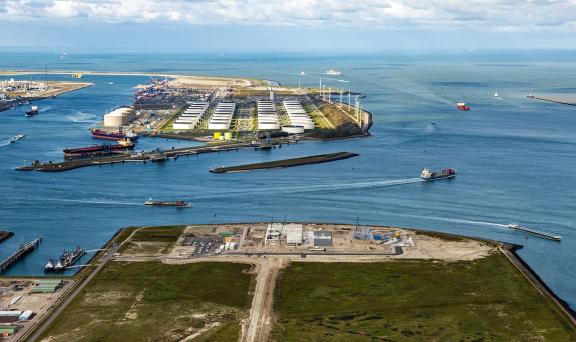 A bird's-eye view of the carbon-neutral innocent plant, situated at the Rotterdam Food Hub. Photo: Topview Luchtfotografie.
Construction of the Blender is expected to be completed in the summer of 2021. The plant will have a production capacity of 400 million bottles per year. The first smoothies will leave the plant in early September.
Rotterdam Food Hub
The strong ambition to remain Europe's leading agrofood hub and the willingness to invest in this position make Rotterdam the perfect operational base for agrofood companies. To accommodate this growth, the Rotterdam Food Hub was developed near Maasvlakte. This 60-hectare industrial estate with an optimum nautical infrastructure is specifically set up to allow agrofood companies to grow.
Partly thanks to the construction of the innocent site, the Rotterdam Food Hub has moved a step closer to completion. The area is now fully accessible by road. The road more or less splits the food hub in two. The sites still available to the north and to the south are clearly discernible. Additionally, the construction of a water treatment plant is started, which is suitable for both wastewater from the industrial process of innocent and other wastewater from the area. An extra transformer station will be built next year, from which connections will be realised for all other agrofood customers.
"The fastest route to freshness"
'We aim to accommodate our clients' growth in agrofood further,' explained Emile Hoogsteden, Commercial Director at the Port of Rotterdam Authority. 'The Rotterdam Food Hub offers excellent opportunities for this: not only are Maasvlakte's large deep-sea container terminals just a stone's throw away, but the Rotterdam Food hub will also have access to multiple berths for sea-going vessels especially equipped for refrigerated cargo.' Berths for inland vessels will also be available, and warehouses will be located immediately adjacent to the quays to enable refrigerated and frozen cargo to be stored, processed or transported quickly. 'In agrofood, we work with perishable goods, so speed is crucial,' Hoogsteden said. 'The fastest route to freshness' is a promise that is lived up to in Rotterdam and which leads to what is most important to the customer: guaranteed freshness.