Duurzaamheid
Container voting rights for rail expansion
04 October 2019
Freight transport by train is more sustainable than by road. That much is clear. It's an important argument used by the rail sector to stimulate clients in making the modal shift towards rail. The objective is for thirty per cent of freight to be transported by rail by 2030. But how realistic is that? We asked Arno van Rijn and Rob Bagchus, respectively Commercial Executive and Chief Public Affairs & Public Relations Officer at ECT.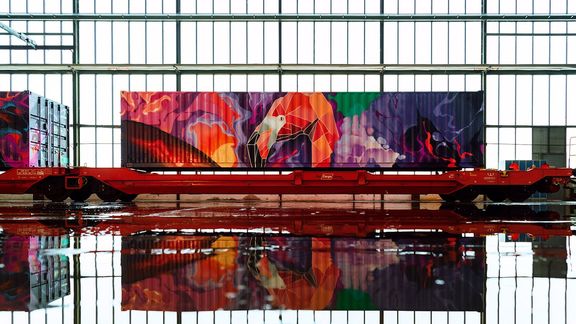 Currently an average 18 percent of freight transport in Europe takes place via rail. In the Port of Rotterdam that share is actually a little lower at 10 percent. This is partly due to Rotterdam's excellent accessibility via inland shipping. Nevertheless, Arno van Rijn is certainly expecting an increase in freight transported by rail in the coming years. 'Clients are increasingly taking CO2 emissions into account when selecting the type of transport they use. Rail scores well on this point. We're also seeing more frequent use of barge and rail combinations. This offers a range of interesting options.'
Usage fee
Despite the increased focus on sustainability, this is certainly not the only factor determining which modality is used. 'The challenge for rail transporters is to remain competitive. Government measures with respect to the usage fee for rail are incentives that are going in the right direction. These are fantastic developments, because there's still space for increased use of rail.'
Sixteen tracks
ECT is already benefiting from the modal shift. This over-fifty-year-old company is making direct rail connections between deep sea traffic on Maasvlakte and Europe using three of its own rail terminals. The rail terminals have sixteen tracks and also form the start and end point of the Betuwe Route. Weekly these rail terminals form the 24/7 hub for over a hundred shuttle trains from destinations including Linz, Duisburg, Strasbourg and Basel and from there continuing to all important economic centres throughout Europe.
25 x Venlo
The company has also offered sustainable transport since 2009 using 'European Gateway Services' via inland shipping and rail to and from a network of inland terminals, including the 'last mile'. EGS is the largest maritime rail operator in Rotterdam with over forty weekly services to and from various destinations in the Netherlands, Germany, Belgium and Austria. Annually, over a million TEU is transported within the total EGS network. Bagchus: 'Rail is attractive for us in tapping into new markets, particularly those in South Germany. But by bundling cargo, we can also have some 25 trains a week running to Venlo.'
Votes
According to Van Rijn, whether rail will achieve thirty percent by 2030 is hard to predict. 'It's not so much about that specific number. The increase in share will definitely be achieved in the coming decades. 'How substantial that increase will be depends on politics,' stated Bagchus. 'Our rail network is predominantly mixed. It is important that freight transport is given a fully fledged position in relation to passenger transport. That will enable us to take considerable steps. But... containers don't vote, do they?'