An accessible port
Corridor partnerships help strengthen inland container chain
19 July 2021
Various barge operators, deep-sea terminals and inland terminals are working together to bundle container flows along corridors between Rotterdam and the hinterland. The Port of Rotterdam Authority supports these market initiatives, which contribute to the optimisation of the inland container shipping chain.
These corridor initiatives are the outcome of an inland container shipping consultation organised in 2017 at the initiative of the Port Authority. This sector-wide consultation was set up in response to increasing waiting times for inland container vessels at terminals in the port of Rotterdam. Together with other innovations like the Nextlogic planning tool, the new partnerships can help resolve this complex issue.
Scheduled services
The corridors in question concern different shipping connections between the port of Rotterdam and regions in the hinterland. One finds numerous inland terminals along these routes, which are used by a great many inland vessels. Various barge operators and inland terminals have decided to work together to bundle the flow of containers destined for specific deep-sea terminals. As a result, large volumes of containers can be moved between the different deep-sea and inland terminals using inland vessels that sail according to a fixed schedule. In addition, the barge operators and the deep-sea terminals have agreed to load and unload containers during specific time slots, and to put through a minimum number of containers (moves) per inland vessel. These agreements have made the handling of inland container shipping flows in the port of Rotterdam both more reliable and more efficient.
Chain optimisation
Collaboration at the corridor level benefits all chain parties involved. Barge operators are able to improve capacity utilisation within their fleet. In addition, they are assured of a weekly, scheduled call at different deep-sea terminals – without unforeseen waiting times. This allows them to raise their profile as a reliable transport partner for shippers and freight forwarders. At the other end, deep-sea terminals can make more effective use of their crane and quay capacities, since the bundled flows result in larger call volumes per inland vessel. Both parties – barge operators and terminal operators – enjoy improved predictability in a share of their inland shipping plannings.
From two to six
The first corridor partnerships to come out of the sector-level consultation , the West Brabant Corridor (WBC) and the Ruhr Express, were set up in 2018 with the support of the Port of Rotterdam Authority. Both initiatives have been developed further over the years, and the results are promising: e.g. a reduction in the volume of containers transported by truck and a growing number of scheduled services to individual deep-sea terminals. They were soon followed by other collaboration and bundling initiatives along various corridors in the Netherlands and Germany. Besides the North West Central Corridor and the Limburg Express, sector parties have also teamed up to organise scheduled services to specific deep-sea terminals in Rotterdam along the CAN Corridor and the Maascorridor.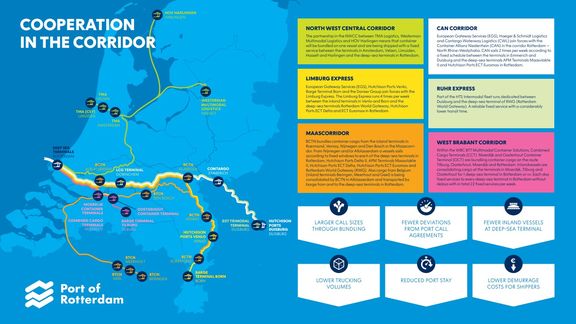 CAN Corridor
European Gateway Services (EGS), Haeger & Schmidt Logistics and Contargo Waterway Logistics (CWL) have agreed to work together on the Rotterdam – North Rhine-Westphalia corridor under the banner of Container Allianz Niederrhein (CAN). Twice a week, the partners organise a scheduled service between inland terminals in Emmerich and Duisburg and the Rotterdam deep-sea terminals APM Terminals Maasvlakte II and Hutchison Ports ECT Euromax. 'The CAN Corridor links two important economic regions together,' says Cok Vinke of Contargo Waterway Logistics. 'One of the reasons why this corridor is so successful is that handling at the port of Rotterdam is guaranteed. Our clients are becoming more and more appreciative of this service, since it increases the predictability of their logistics chain.'
Maascorridor
Along the Maascorridor, BCTN has started to bundle the container flows put through its inland terminals at Roermond, Venray and Den Bosch in Nijmegen and Alblasserdam. The different inland terminals enjoy a scheduled service to each of the deep-sea terminals in Rotterdam. Containers handled by the BCTN terminals along Belgium's Albertkanaal (Geel, Beringen and Meerhout) are also shipped to Alblasserdam for bundling, after which they are transported by inland vessels to and from various deep-sea terminals in Rotterdam. 'The corridor approach yields extra certainty for all parties involved,' notes BCTN's CEO Joop Mijland. 'When you ship via BCTN, you choose reliability based on fixed windows and a durable network of inland terminals. On top of this, we are working to convert our fleet of inland vessels t o hybrid, electric and hydrogen propulsion.'
Limburg Express
The Limburg Express involves four scheduled services per week connecting the inland terminals Hutchison Ports Venlo and Barge Terminal Born with Rotterdam World Gateway (RWG), Hutchison Ports ECT Delta and ECT Euromax. This corridor is still under development, with the partners aiming to bundle even more containers than presently the case and to set up a new scheduled service to APM Terminals Maasvlakte II. Moreover, as the participating barge operator, the Danser Group has announced its plans to use larger vessels on this route. Sebastiaan van Dorsser of European Gateway Services (EGS): 'The Limburg Express offers guaranteed handling windows in Rotterdam. This allows us to cater to the growing demand for reliable and environmentally friendly transport solutions.'
Encouraging and scaling up collaboration
Over the past few years, most corridor initiatives have continued to expand as new parties came on board. By now, almost every important shipping route between the port of Rotterdam and its hinterland has some form of corridor partnership. And collaboration along these corridors is expected to only intensify in the years ahead. 'Due in part to the Covid pandemic, disruptions in the global container market and peaks in the container volume, the handling of inland container calls in the port of Rotterdam is exposed to certain vulnerabilities ,' says Emile Hoogsteden, Vice President Commercial at the Port of Rotterdam Authority. 'This situation calls for collaboration and mutual trust, with barge operators and inland terminals working together on the joint development of corridor initiatives and entering into agreements with the operators of Rotterdam's deep-sea terminals. Joining forces allows parties to coordinate their activities more effectively – adding to inland container shipping's appeal as a transport option for shippers and freight forwarders. Considering the tremendous importance of inland container shipping to our port, we are more than happy as the Port of Rotterdam Authority to promote these initiatives.'
The Port of Rotterdam Authority works together with the Dutch Ministry of Infrastructure and Water Management, Topsector Logistiek and the provincial administrations of Zuid-Holland, Gelderland, Noord-Brabant and Limburg within the long-term infrastructure and transport (MIRT) programme 'Freight Transport Corridors'. Encouraging and scaling up collaboration along the different corridors is also in line with parties' ambition to accelerate the modal shift from road transport to inland shipping.