Deep sea shipping companies: blank sailings and impact on Port of Rotterdam
28 April 2020
A third wave of blank sailings has been announced by shipping company alliances 2M, OCEAN Alliance and THE Alliance. The capacity reduction, especially on the Far East-Europe trade, varies between 20% and 37%, depending on the alliance. In addition, lockdowns also have an impact on deep-sea trades to and from South Africa and India/Pakistan. A list of the current blank sailings is available at: www.ocean-insights.com.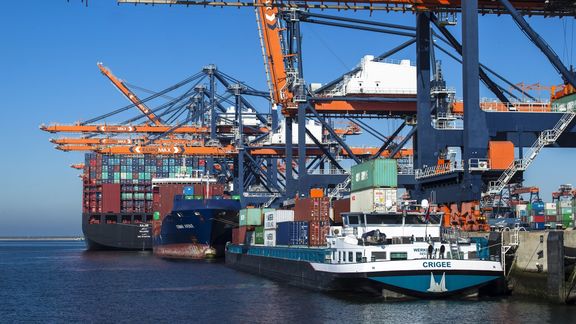 The impact of the blank sailings and lockdowns is visible in the Port of Rotterdam with a delay of approximately three weeks. Consequently, the impact of the announced measures in April is limited. For the time being, based on the current list of blank sailings, a decline in deep-sea volume in Rotterdam is expected to be 25% compared to May and June 2019. The decline after this period depends on the course of the corona crisis.
For import containers with storage periods that are extended due to shop and factory closures, space is being sourced at terminals and depots in both Rotterdam and the hinterland.
Short sea
Many short sea shipping companies showed a slight decrease in volumes in recent weeks. Many shops are closed, but orders that have already been placed are still shipped and transported to warehouses. However, these orders are slowly drying up. It is therefore expected that there will be a large decrease in volume in the short term. The handling of ships from short sea shipping companies is still functioning normally in Rotterdam. The fleet of short sea shipping companies is often largely made up of charter vessels. This enables shipping companies to be flexible with return delivery, should the need arise.