Safe port
Dutch Drone Delta established with Port Authority support
05 December 2019
Drones have the potential for many things, including automatic inspections of ports. To ensure that this takes place in a safe, efficient and socially acceptable way, the Port of Rotterdam Authority is one of the parties that has signed for the establishment of the Dutch Drone Delta (DDD) on Wednesday 4 December during Amsterdam Drone Week.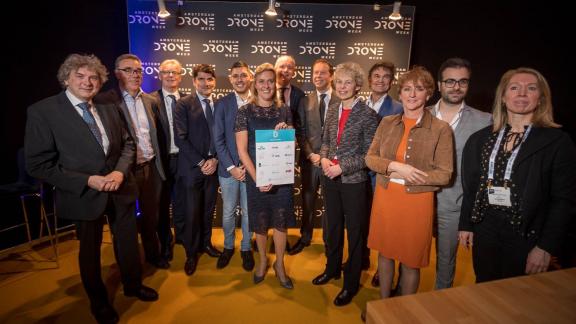 The collaboration is focusing on a safe integration of drones and Urban Air Mobility (UAM) in a socially-sustainable and economically feasible way. According to the partners, with its rich history in aviation, its innovative character and desire for collaboration, the Netherlands is well-positioned to take on a leading role. This will ensure that a lot can be achieved.
Dutch Drone Delta will start on 1 January 2020 with the following five tracks.
Track 1: Added value for society and social acceptance
Track 2: Autonomous long-distance flights
Track 3: Safe integration of manned and unmanned traffic
Track 4: Deliveries by drones
Track 5: Transport of freight and persons between and within cities
A Dutch coalition
The coalition comprises partners that, in addition to making a financial contribution, have the necessary knowledge, skills, experience and capabilities to realise applications with drones and to work on the future of Urban Air Mobility.
The partners include KLM, Air Traffic Control the Netherlands (LVNL), Royal Schiphol Group, Port of Rotterdam, KPN, a.s.r. schadeverzekeringen, RAI, Connekt, Antea Group, Space53, Royal Netherlands Aerospace Centre (NLR), AirHub and Rijkswaterstaat.