Innovatie
Emerce crowns PortXL as top Dutch accelerator
17 April 2019
Emerce 100 magazine has listed PortXL as number #1 Accelerator in the Netherlands in their top 100 market survey, with a rating of 5.5 stars out of 7.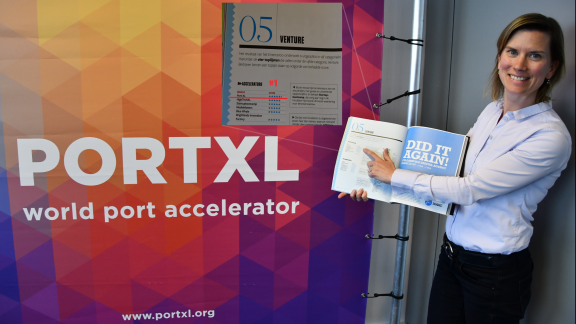 An unexpected, but most welcome recognition of the hard work conducted since 2015 by the Rotterdam PortXL team. Carolien Sandee, director PortXL: "The World's 1st Port & Maritime Accelerator has no intention to rest on their laurels. The 2019 program is well underway with training sessions, roadshows and mentor events". Six start-ups and eleven scale-ups will present their progress and final results during the closing Shakedown event on 20 June in Rotterdam.
About PortXL
PortXL is the world's first Maritime Port Accelerator and is unique in its kind, with a global network of leading companies and experts. The objective of PortXL is the acceleration of innovative technologies for the maritime, logistics, energy and chemical industry sectors in port regions across the world. In doing so, PortXL activates the largest possible ecosystem to stimulate entrepreneurship for all involved parties. The PortXL ecosystem comprises start-ups and scale-ups, investors and partners, and market leading companies such as Van Oord, Port of Rotterdam, EY, Royal IHC, Mammoet, Vopak, Boskalis, Shell, Rabobank, City of Rotterdam, Rotterdam The Hague Airport, InnovationQuarter and ECE.
Would you like to know more? Visit and follow PortXL on Twitter, LinkedIn and Facebook to stay informed of the start and scale-ups' progress.