Erasmus MC teams up with Rotterdam Make It Happen
09 January 2019
The Erasmus Medical Centre will be joining the Rotterdam Make It Happen brand alliance with effect from the 8th of January 2019. Mayor Aboutaleb and Ernst Kuipers signed the formal agreement on behalf of the brand alliance and Erasmus MC respectively at the New Year get-together for Rotterdam Partners, the Municipality of Rotterdam and Rotterdam Festivals. This move by the Erasmus MC means that yet another vibrant Rotterdam brand will be associated with the concept of Rotterdam Make It Happen.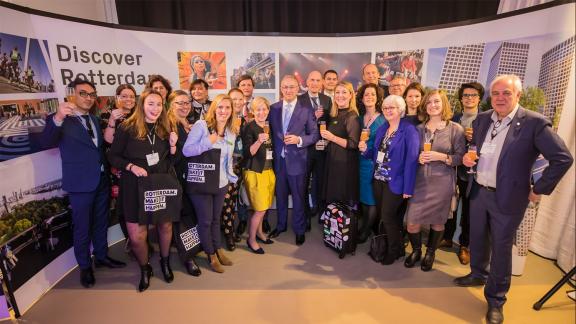 The Rotterdam Make It Happen brand alliance is a partnership of the Municipality of Rotterdam, the Port of Rotterdam, Erasmus University Rotterdam, Rotterdam Partners, Rotterdam Festivals and Rotterdam Topsport, all of whom have been making a concerted effort under the collective banner of 'Rotterdam Make It Happen' since December 2017 to enhance the national and international appeal of Rotterdam. In October 2017 ten more dynamic Rotterdam-based brands became partners in the alliance, and from the 8th of January, Erasmus MC will also become part of the 'make it happen' world.
Jannelieke Aalstein, chairperson of the brand alliance, says: 'The addition of Erasmus MC to the Make It Happen family will further expand the clout and scope of Rotterdam Make It Happen. Erasmus MC is a leading player in the fields of health care, science and education, both at a national and international level, and all these fields are essential spearheads in the Rotterdam economy. Erasmus MC is also an iconic institution in Rotterdam – a city within the city – as well as being one of the largest employers in the city and region. We are immensely proud that Erasmus MC wants to ally itself to the concept of Rotterdam Make It Happen, and we look forward to a highly successful collaboration'.
'It's great for us to join forces with the partners of the Rotterdam Make it Happen brand alliance; all are organisations that will contribute to making Rotterdam a more attractive and vibrant city. I look forward to sharing the expertise and insights of Erasmus MC and to learning those of others, so that together we can also make the city healthier. We can achieve so much more by joining forces', says Ernst Kuipers, chairman of Erasmus MC's Board of Directors.
Erasmus MC is the biggest University Medical Centre in the Netherlands, world-leading in many fields, and an important player in the Rotterdam medical world as well as in the entrepreneurial scene and innovative eco-systems of the city. The totally re-built and renovated Erasmus MC officially opened its doors in September 2018. The new hospital is an ultra-modern medical centre, where the optimal care and comfort of patients is key. The wards consist of only single-patient rooms, treatment rooms are shared by the specialist disciplines, and there are now more public spaces, as well as clearly visible links between the various buildings.
There are obviously many more interesting activities taking place in and around the Erasmus MC than those which fall under the concept of Rotterdam Make It Happen. If you would like to know more, read the showcase about Erasmus MC on www.rotterdammakeithappen.nl