Digitisation
EU-rapporteur Maritime Single Window visits the Port of Rotterdam
27 November 2018
On Monday, November 26 2018, Deirdre Clune, member of the European European People's Party in the European Parliament, visited the Port of Rotterdam. Ms Clune is the rapporteur on behalf of the European Parliament on the European Maritime Single Window Environment (EMSWe) Regulation and, because of the possible impact of this file on ports, an important stakeholder for the Port of Rotterdam.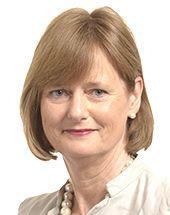 After a general introduction about the port from a historical perspective, the most important port activities in Rotterdam and a preview of future challenges (energy transition, digitization) by Mark Dijk, Manager External Affairs, the rapporteur visited the Harbour Coordination Center (HCC) together with Harbour Master Rene de Vries. Here, we provided her with an overview of the data that ports need to ensure a safe, smooth and efficient handling of shipping traffic. After the visit to the HCC, a meeting between Mrs Clune and Allard Castelein was scheduled. The CEO of the Port of Rotterdam emphasized that it is of great importance that 'data talks to data' and digitization can only be successful if there is a large degree of data harmonization. Also with regard to Port Call optimization processes and in relation to the development of digital apps such as Pronta and Navigate.
The impact of the Brexit on the Port of Rotterdam was mentioned several times during the visit. We have indicated that preparation remains key, regardless of the negotiation outcomes.
After a presentation by Iwan van der Wolf, Managing Director of Portbase, about the functioning and added value of port community systems, an in-depth discussion took place about the EMSWe dossier in the presence of Isabelle Ryckbost, Secretary General of the European Sea Ports Organization (ESPO). All parties at the table agreed that flexibility in the EMSWe proposal is key in order not to hamper developments in larger European ports and also helping smaller ports in Europe to advance through digitization. The rapporteur's expectation is that the European Parliament will agree to keep the reporting route open via the PCS in the Single Window Regulation. This route seemed to be under pressure because European policymakers at first wanted to have in place one notification entry for shipping at the national level. In the past months, the Port of Rotterdam has advocated to keep the (optional) reporting route via Portbase open for the shipping industry.