European Conservatives and Reformists (ECR) delegation visits the Port of Rotterdam
23 May 2018
On 23 May a group of 20 key Members of European Parliament (MEPs) from the European Conservatives and Reformists (ECR), the third-largest political group in the European Parliament, visited the Port of Rotterdam. MEP Peter van Dalen, responsible for legislative files related to maritime affairs, led the delegation.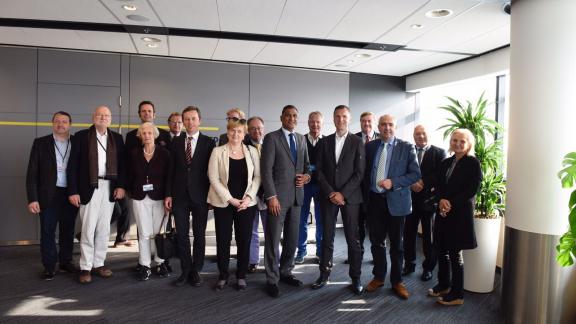 In his welcoming speech Mr Paul Smits, CFO of the Port of Rotterdam, touched upon the Brexit and the efforts the port is undertaking to mitigate the foreseen effects. The port's main priority is to continue to ensure a seamless flow of goods and products.
Mr Smits also made reference to the port's priorities for the new European electoral term 2019-2024 including a comprehensive transport policy, digitalisation and the energy transition. The latter two are opportunities for the port in view of stimulating new business, facilitating existing sectors and strengthening its competitive position.