Innovation
'Exploring opportunities for hydrogen at the SmartPort CEO Diner'
24 September 2019
Care to take a seat at the Eco-Runner, see how an AeroDelft hydrogen aircraft works or practice driving in the Forze H2 simulator? You could do all of this during the SmartPort CEO dinner at the Robohouse in Delft on 23 September. Most importantly, leaders from industry and logistics shared their vision and asked key questions about the role that hydrogen, around which theme the evening revolved, could play in the energy transition in the port of Rotterdam.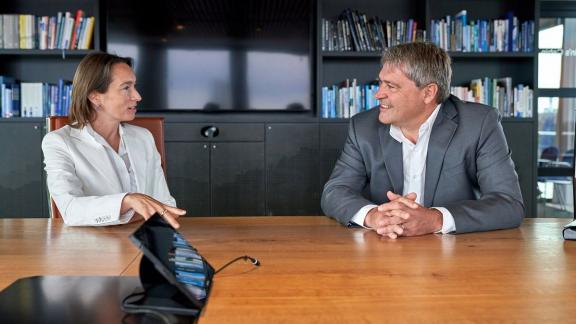 The Director of SmartPort, Elisabeth van Opstall, together with the brand-new SmartPort chairman Frits Eulderink (COO of Vopak), who succeeded former SmartPort Chair Paul Smits, organised a CEO dinner on behalf of the SmartPort partnership (see box). The focus of the evening was on the sharing of knowledge surrounding hydrogen. More than twenty leaders from the port of Rotterdam, industry and logistics caught up with the latest news and drew inspiration from the opportunities hydrogen can bring to the port area, although they mainly put SmartPort through its paces. Elisabeth: 'During the CEO dinner, we wanted to collect as many questions as possible on what concerns the companies in the port of Rotterdam and industry with regard to hydrogen. But of course we knew the answer! Plenty of questions were raised, such as, 'how exciting is it for Rotterdam to be at the forefront of this' and 'is hydrogen really the panacea?'. SmartPort will get to work on answering these questions in the near future.' Together with the scientific community, SmartPort will identify where research questions can be found and which research coalitions are possible. This will soon offer clarity on which decision information is still needed in order to speed up the transition.
Closely linked industry
Frits is delighted with the enthusiasm and commitment shown by the guests during the dinner. The added value of such a CEO dinner is that you bring together people who have a common interest and know what to expect from one another. Rotterdam is Europe's largest port and the largest petrochemical industrial cluster with international connections. An industrial area in which businesses are closely linked. This interconnectedness offers a huge advantage as it allows you to bring parties together much more quickly and speed up innovations.' This was also borne out by a number of reactions during the CEO meeting; for example, as Allard Castelein (CEO of the Port of Rotterdam Authority) said: 'Only by working together can we succeed in achieving the large-scale production of blue and green hydrogen on top a transport network', and Ruben Beens, (CEO of BP Nederland) stated: 'It's extremely worthwhile for us CEOs to use an evening like this one to explore the opportunities created by hydrogen.'
Advantages of hydrogen
There are certainly lots of companies in the Rotterdam port area that recognise the benefits of hydrogen. It has been used by a number of industrial companies for many years; there is a hydrogen pipeline running through the port of Rotterdam and in 2014, a hydrogen filling station was opened here. Attention to hydrogen now appears to be really gathering pace. At the beginning of July, 16 organisations in the port of Rotterdam, led by Deltalinqs, carried out the H-vision feasibility study which was presented to Minister Wiebes. Its conclusion is that large-scale production and use of blue hydrogen will enable Rotterdam's industry to significantly reduce its CO2 emissions even before 2030. Discussions on how to proceed are currently being held. Alongside its role in H-Vision, Vopak recently acquired a stake in the German company Hydrogenious, which has developed technology for storing and transporting hydrogen efficiently and safely. 'Together with other partners, we would like to look into whether we are also able to apply this on an industrial scale. In particular the fact that this technology can be used to transport hydrogen safely in existing tankers and ships, as well as to store it in existing tanks, has a lot of potential. Managing safety and costs is critical to the real breakthrough in the large-scale use of hydrogen,' says Frits. 'At the moment, if you want to transport hydrogen, you have to cool it down to -252.87°C or place it under extremely high pressure. If we can solve that, we will make the entire logistics chain a lot cheaper and safer.'
Specifically in Rotterdam
It is in industrial ports, and hence in Rotterdam too, that hydrogen could have a particularly bright future. This has also been put forward by the IEA (International Energy Agency) in a report published recently. Scaling up will also have a positive impact on the price. 'There is definitely a market issue at play here as well,' says Elisabeth. 'Hydrogen is currently more than twice as expensive as fossil fuel. The solution to this problem must come from the further development of technology and an increase in demand from industry and logistics. What is more, you need an infrastructure, and at the moment this has not yet been adequately developed. These are all signs you often fail to notice at the outset of a new development, and which are resolvable.' - Yesterday evening, Steven Lak (President of Deltalinqs) added: 'The scaling up of hydrogen is principally about asking the right questions too: how much is it allowed to cost, instead of looking at what it costs.'
Ingredients for success
Neither Elisabeth nor Frits is averse to idealism when it comes to the future of Rotterdam's port area. 'The ultimate goal is a sustainable port that is also the driving force of the economy.' They both believe this is a viable ambition, especially in view of the many advantages Rotterdam has to offer. Elisabeth: 'All the ingredients for success are here: we have existing factory plant in a closely linked industrial cluster and logistics hub; we have the technology; there is interest among the business community; we have the scientific expertise; we have a government that wants this.' 'And,' adds Frits, 'there is enough wealth in Western Europe to pay for the transition. In my opinion, prosperous societies need to be prepared to take the lead in making the economy more sustainable. It costs a lot of money, of course, but in the Netherlands we can definitely afford it. By the same token, I fully realise that many businesses in the port of Rotterdam manufacture products that have to compete with international alternatives, and that the headquarters of many companies are located abroad. They are examining the question very closely: what is the incentive for enhancing sustainability in the Netherlands in particular? We therefore have to make sure that the conditions here are favourable and relatively rewarding.'
Opportunities for hydrogen
Elisabeth: 'If there is one thing we have learned during the CEO dinner, it is that there is a great deal of interest and enthusiasm surrounding the use of hydrogen in the port of Rotterdam. If we clearly identify the technical bottlenecks, SmartPort will be able to help develop the technology further, we will be able to speed up the process towards cheaper hydrogen and collectively we will enjoy real success with hydrogen in Rotterdam and achieve our ambition of creating a hydrogen hub.'
SmartPort
SmartPort is a not-for-profit partnership between the Port of Rotterdam Authority, Deltalinqs, the Municipality of Rotterdam, Erasmus University Rotterdam, Delft Technical University, TNO and Deltares. Together with the affiliated businesses and knowledge institutes, SmartPort fosters alliances, funds scientifically innovative research and organises the dissemination of the acquired knowledge. Its aim is to speed up innovations in the port of Rotterdam.