Bereikbaarheid
The final plot
01 July 2019
Written by: Maarten de Wijs
Demand for port-related logistics property remains high. That's something we also notice at Maasvlakte Distribution Park West. Of the eight plots, seven have already been reserved, with just one 8.5-hectare plot remaining: 'plot B'.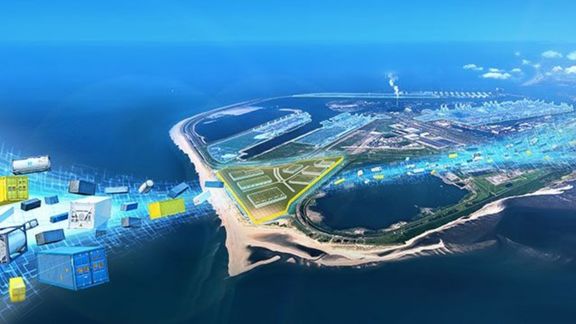 The development of the only 'greenfield' site currently available in the Port of Rotterdam is in full flow. The public infrastructure for Maasvlakte Distribution Park West will be completed in September, after which the rest will follow in quick succession, with the Port Authority offering future 'residents' intensive support in establishing, requesting and realising utilities. The Busan Port Authority also becomes "launching customer". Their sustainable, 30,000 square meter warehouse will be commissioned in 2021.
Interest in the 48.5-hectare site is high. In itself this isn't surprising. For logistics this is one of the Netherlands' top locations; in the heart of the 'Gateway to Europe'. The site is just a stone's throw from high-frequency deep-sea, short-sea, inland shipping and rail connections. The new Distribution Park is also located conveniently for the A15, the Maasvlakte Plaza Truck parking area and the existing Maasvlakte Distribution Park. In addition, the Betuwe Route as a 'dedicated' freight rail line, connects Maasvlakte with the European hinterland.
There are no construction height restrictions, which makes the Distribution Park extremely suitable for the development of large-scale distribution. That's not only my opinion, but also that of experts including Wouter Vos, Director of property developer Dudok Group. As all the deep-sea and other terminals are close by, the unloaded cargo finds its way to the warehouse in no time, resulting in short, reliable and therefore secure logistics chains. This is extremely important, certainly for high-quality freight. The spacious environmental contours of the site make it extremely suitable for the distribution of chemical products, including hazardous substances.
Maasvlakte West also offers excellent opportunities for agricultural distribution. There is already a strong cold storage cluster at Maasvlakte and cooperation with the Rotterdam Food Hub, which is currently being developed, and the existing cold storage clusters in the Merwe-Vierhavens and Eemhaven is simple.
What will happen to the final plot (which can be divided into two smaller plots) is unknown right now, but my gut feeling tells me that it won't be long before we can make an announcement about this. There's always a special feeling surrounding issuing the final plot. But, whatever it becomes, I can already congratulate the new tenant on choosing a top location!