An accessible port
Full steam ahead for Moselle Express
20 November 2018
The flow of trade through the Port of Rotterdam with the Eifel, the Saarland and Luxembourg is on the increase. The twice-weekly Moselle Express, which runs between Trier and Rotterdam, is under full steam.
Since January 2017, the German company Am Zehnhoff Söns has been providing a rail link between the RWG and ECT Delta terminals on the Rotterdam Maasvlakte and the multimodal terminal in Trier. "We have noticed that our customers really appreciate the speed and reliability of the rail shuttle", explains Simon Jung, Business Development & Sales Manager at Am Zehnhoff Söns. "The containers can get from Rotterdam to Trier and vice versa within twelve hours." This means, for example, that cargo from Saarland can be on a ship heading for the United States, or any other deep-sea destination, within 24 hours."
Empty miles
Conversely, Am Zehnhoff Söns has recently invested heavily in smart logistics, optimising the last mile from the station in Trier. In addition, a lot of customers find the favourable carbon footprint important. "Transporting containers by rail enables us to reduce CO2 emissions when the containers are full and we also have fewer empty miles as we don't need to travel back empty", says Johan Pijpers, Inland Operations Procurement Manager at Ocean Network Express (ONE).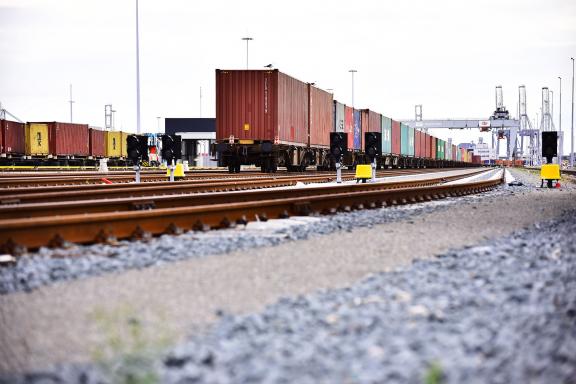 Madness
The environmental aspect also plays a key role at Yusen Logistics. Each week, the company ships between 40 and 50 containers of industrial products from the Port of Rotterdam to a regular customer in Luxembourg. "Initially, we used lorries to ship the goods, but continually driving 400 km along the road in lorries is nothing short of madness", believes René Braemer, Branch Manager at Yusen Logistics. "Especially when you look at the traffic congestion and CO2 emissions, not to mention the fact that the containers often came back empty. That was why we decided to seek an intermodal solution." It is therefore no surprise to learn that Yusen Logistics was among the first customers at the inception of the Moselle Express.
Tuesdays and Fridays
The Moselle Express can carry 100 TEU per journey and 4 tonnes additional cargo per container. The train leaves Trier for Rotterdam every Tuesday and Friday. The train returns from Rotterdam to Trier on Sundays and Wednesdays.