Digitisation
Handling data dilemmas
26 June 2018
The new Port of Rotterdam Authority Digital Business Solutions (DBS) department offers our clients new products in which data play a big role. Product Leads Danny de Roo and Robbert Engels explain why we handle all these data in a smart and secure way.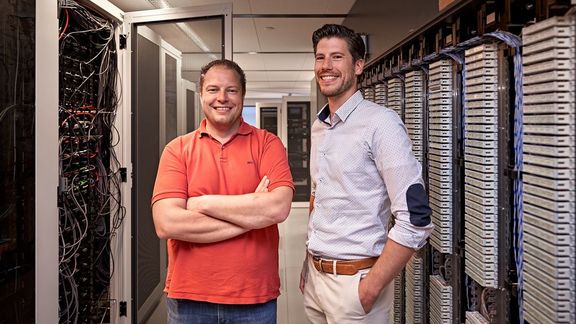 Our digital products and services are fed by data. The Port Authority identifies the exact source of these data and is actually obliged to know who the data owner is and who may use or view the data. "In port processes, a lot of time can be gained by making these processes more transparent," stated Robbert. "Look at Pronto, our digital data-sharing dashboard on which all parties that play a role prior to and during a sea-going vessel's stay in the port can access clear information about each other. Such a dashboard is interesting if you can see exactly when all these parties, such as pilots, linesmen, inspectors, bunker parties and maintenance companies, need to be present to make a pit stop-like turnaround from the stay. Because that is the goal. Shipping companies earn money with vessels that are sailing, not with vessels that are berthed at the quay. If we can help them with the shortest turnaround time, then they are more likely to choose Rotterdam."
Sailing homes
Data are needed for such a well-operating and reliable dashboard. Danny: "And these are not always public or available. Take the AIS, for instance, the transponder on vessels that divulges such details as location and speed. Sometimes the skipper lives onboard an inland vessel together with his family. In such cases, the AIS information can be traced to a home address and is therefore privacy-sensitive."
White list
Danny: "If we can't provide the locations of inland vessels, Pronto offers less added value to our clients. Because during quay planning it becomes more difficult to schedule the inland vessels. We are now busy compiling a so-called white list with vessels that cannot be traced back to persons: sea-going vessels, our RPAs and vessels or bunker vessels with changing skippers. We also investigate the options to request formal permission from skippers to share their AIS information with us. Perhaps they are prepared to share their data with us under certain circumstances This is how we are continuously pioneering, searching for opportunities.