Innovation
'I want to make huge waves!'
14 February 2020
Making waves #11
In Rotterdam we are continuously searching for answers to make the port smarter, more efficient, better and more sustainable. In the 'Making Waves' column series, Port Authority partners talk about how they view the smart port. Marjolein Boer, Manager Innovation at the Port of Rotterdam Authority, is on a mission: to bring worlds together.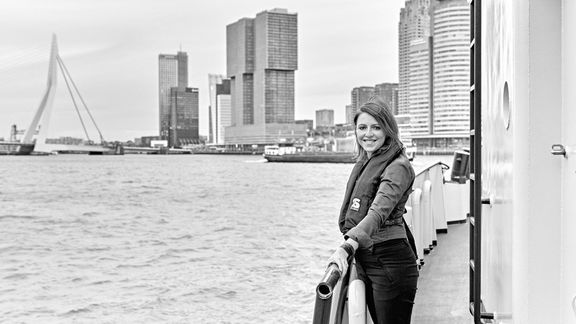 'Innovations are created where worlds converge. The Port of Rotterdam is the place where that happens. We're creating the port of the future here - in a strong innovation ecosystem, which is at the heart of this column series. A new port, created in the familiar Rotterdam way: not just talking, but actually doing. We're continuously "making waves" and that's why we'll succeed here.
The concept of the 'shapable' city has been in Rotterdam's DNA since the post-war reconstruction, when people worked out how the new city should look. We're now looking towards the fully digital, CO₂-neutral port of the future. Everything is available in Rotterdam to make this happen; we have both literal and figurative space to innovate. Start-ups and scale-ups experiment, test and grow at RDM and M4H. Established companies innovate on their own sites and are also increasingly looking beyond the boundaries of their companies. They are getting better and better at connecting with each other and that's how the best innovations develop. The figurative space is something intangible; it is the mentality and energy of people who see opportunities and make connections. And that, in a nutshell, is the magic of the Rotterdam innovation ecosystem.
Always switched ON
This vibe, of wanting to progress, of taking the lead and change things, is why I've always been switched ON for Rotterdam since my studies. Imagination, reframing, curiosity and wanting to tackle things; you can make a real difference with that here and that's why this is my dream job! I've been Manager Innovation since 2016 and, together with my team, I help other parties innovate. We're searching non-stop for projects and ideas within and beyond the port, that we can help bring to fruition, making connections and bringing people together. To innovate, we need to bring in new developments from outside and mobilise companies and people. Innovations only get off the ground if you combine energy from various worlds to enable these energies to multiply.
If you want to be the port of the future, you can't do that alone; partnership is something I really believe in. Within and beyond the boundaries of the port.
— Marjolein Boer, Port of Rotterdam Authority
Wind force 10
If you want to be the port of the future, you can't do that alone; partnership is something I really believe in. Within and beyond the boundaries of the port. You need to connect, but to do that, you first need to be able to find each other!
A strong local innovation ecosystem combined with global players is essential for this. We've been working hard on this for the past 10 years. These efforts have resulted in a vast ecosystem with thé knowledge institute for ports, world's first maritime accelerator, a port investment fund and the biggest 'makers district', with many more fantastic things in the pipeline! And thanks to the people you've become acquainted with via this column series, the energy is now flowing through that ecosystem at wind force 10! I'm extremely proud of this: together we have developed a unique and dynamic ecosystem in which innovative companies can thrive and develop their ideas to become flourishing companies. With support from market parties, knowledge institutes, network organisations and investment funds.
You can feel the innovation
One of the latest innovations that I think is really awesome is uRecycle®. It's a Finnish company that is one of Europe's top 3 battery recyclers. It appeared on our radar through one of the internal innovation teams we worked with. They are constructing a new factory in our port for the recycling and reuse of batteries. This enables us to facilitate an increasingly larger circular flow that, in turn, creates new opportunities.
uRecycle has chosen Rotterdam because of our strategic location, which will enable them to expand to become a large recycling hub in Europe. But the innovation ecosystem is also becoming an increasingly important factor in attracting companies to the port. This combination is what makes Rotterdam unique.
You can feel the innovation in the city and port. We're making waves that swell to form new waves, new initiatives. That's how Up!Rotterdam was created: a collaboration of the Municipality of Rotterdam with various innovation ecosystem parties.
This initiative, which I'm also working hard for, provides faster access to networks, funding and international markets to entrepreneurs with potential. This way, we're continuing to build that strong innovation ecosystem together, in which (new) companies create the port of the future.
Endless ambition
If we are to become the world's smartest and most sustainable port, there is a lot yet to be done. But as far as I'm concerned, the ambition is endless. We have the companies, the knowledge and the experience! We see that it's working with companies such as uRecycle and the development of shore power - for which we also want to run pilots with a circular stream of car batteries.
The big changes that are needed come from within ánd beyond the port, from different sectors, across the world and in cooperation with other ports. I really believe that we need to embrace the disruption we are facing, as that's where the opportunities lie.
Imagining what the world could look like is the start of every innovation.
And working together on the questions of tomorrow is the first step in making progress. Where energies converge, new forms of collaboration and innovations ignite. It's my mission to fire up these energy flows and to create more synergy. From those waves we make together with our partners, I want to make gigantic waves!'