An accessible port
Inland shipping between Rotterdam and North Sea Port on the rise
26 February 2019
Every year, some 15,000 containers are transported directly between Rotterdam, Vlissingen, Terneuzen and Ghent via a regular inland shipping service. Two years ago, the port of Rotterdam and North Sea Port jointly invested in this new connection, which was set up by logistics service provider Danser Group. 'It allows us to transport more cargo within this corridor via inland shipping.'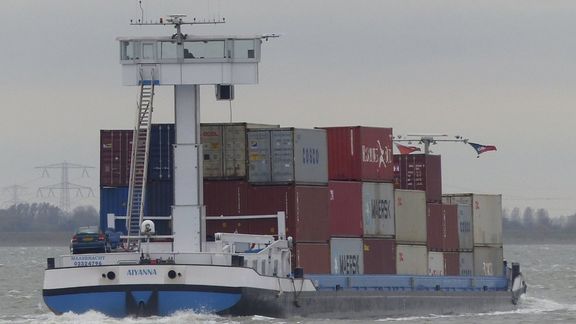 Before 2016, the four ports in question weren't linked via a scheduled service, although there was already inland shipping between the individual ports. A large share of the cargo was transported via road haulage. In response to increased demand for a frequent cross-border connection, in December 2016 Danser launched a weekly container vessel service that calls on each of the ports. Its introduction contributed to the current modal shift from road haulage to inland shipping and takes optimal advantage of the participating ports' strong maritime and transhipment functions. The collaboration – involving an annual volume of some 15,000 TEU – can be considered a success.
Reliable
'Container transport by inland vessel is characterised by reliable arrival times and relatively low CO2 emissions. This is making this form of transport increasingly attractive for companies,' explains Logistics Manager Matthijs van Doorn of the Port of Rotterdam Authority. 'This connection didn't exist beforehand, and has proven a great success from the outset. We see this initiative as a solid contribution to the strengthening and expansion of and for our regional and hinterland networks via inland shipping.'
Footprint
'This service takes optimal advantage of the participating ports' strong maritime and transhipment functions,' adds Commercial Manager Jean Ruinard of North Sea Port, the 60-km long international port area that extends from the Dutch port of Vlissingen to Ghent in Belgium. 'This partnership has created an excellent alternative to road transport for companies within this corridor. Which in turn contributes to a smaller 'footprint'. In the past, containers were mainly transported by truck. With this connection, we are responding to our clients' need for extra modal options.'
France
Most of the 15,000 containers are transported along the corridor Rotterdam-Zeeland-Ghent. In addition, the volume of cargo carried from and to Northern France and Southern Belgium is steadily increasing. Marco Zwaap, General Manager Operations at Danser Group: "Since we launched this connection, we can see other services being set up, including transport via smaller inland vessels from Wallonia and Lille to Ghent. After arriving in Ghent, their cargo is unloaded and transferred to the inland vessel headed for Zeeland and Rotterdam. And of course, it works the other way round too. In the past, nearly all the goods destined for these regions were transported overland. The new service complements existing direct connections in this shipping area.'
Over the next few years, Danser Group expects to record significant growth in the take-up of this service. The North Sea Port area has already been expanded with a new terminal – the 3MCT in Westdorpe, Zeeland – and the operator will be stepping up the frequency of scheduled departures.