'Knowledge transfer between Rotterdam and SOHAR works both ways'
06 April 2020
The Omani city of Suhar has played a role in global sea trade for centuries. It's even said that Sinbad the Sailor came from there. The history of today's modern sea port, SOHAR Port & Freezone, is somewhat more recent. This is a 50/50 joint venture between the Port of Rotterdam Authority and the government of the Sultanate of Oman. The port in the north of Oman welcomed its first seagoing vessel in 2004. Fifteen years on, over three thousand vessels call at SOHAR every year. In 2019 850,000 containers and over 50 million tonnes of cargo were transhipped.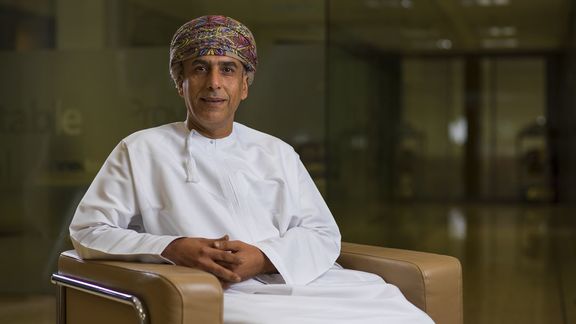 The success of SOHAR Port – one of the world's fastest growing ports – is partly due to its favourable location. SOHAR lies between Dubai and Muscat in the Gulf of Oman and is on the most important shipping route between Europe, India and the rest of Asia. "SOHAR is considered to be the gateway to the Gulf States", stated Batti Alshibli, who has worked with the port since its establishment in 2004. He has been Harbour Master since 2014 and is part of the management team. The various Gulf States can be reached via SOHAR. The road network and the future railway system provide direct overland connections with Bahrain, Kuwait, Qatar, Saudi Arabia and the United Arab Emirates. Alshibli: "This enables people to avoid the additional costs associated with passing through the busy Strait of Hormuz."
Employment
The port is diversified and tranships iron ore, steel products, oil and oil products, as well as containers. The surrounding industrial area accommodates a refinery, power plants, a methane plant and an aluminium smelter. SOHAR Food Zone is a recent newcomer: it is the first agro-bulk terminal in the region with facilities for food production, packaging and logistics. The port has a favourable effect on the local economy. Some nine thousand direct and thirty thousand indirect jobs have been created, and investments in the port run to some 27 billion American dollars. It is also the location of a training institute from which over a thousand port management, trade and logistics students graduate each year. "SOHAR Port makes a substantial contribution to our country's total gross domestic product. As a strategic project, the port has proven successful with respect to jobs and employment for Oman", stated Ali Alyamani, Executive Technical Manager.
Complicated operations
The Port of Rotterdam Authority is involved in the development of SOHAR Port & Freezone and, since 2003, has held a fifty per cent share in SOHAR Industrial Port Company. SOHAR Port authority is the landlord of SOHAR Port and responsible for managing and development port infrastructures. "The collaboration between SOHAR and Rotterdam can be recognised from strategic and operation levels. The joint venture has contributed to the developments of SOHAR Port rapidly", explained Alshibli. "We have also expanded our commercial network via Rotterdam and have succeeded in attracting multinationals including Vale, Hutchinson and Steinweg."
Port-related knowledge
Knowledge transfer is another important aspect of the joint venture and this works in both directions, said Ali Alyamani. "During the early developments phase, port-related knowledge and experience was very rare in Oman, for instance knowledge in port master planning and design, marine infrastructure developments and management. The matured level of SOHAR expertise in port related aspects are now also being transferred to the Port of Rotterdam Authority.
Expansion projects
Like Rotterdam, SOHAR uses the Navigate system to enable smarter container transport planning. "The collaboration with Rotterdam offers us the advantage that we can closely monitor digitisation and automation trends, because Rotterdam is one of the pioneers in this", Alshibli noted. "We are currently working on expansion projects with the Port of Rotterdam team, including SOHAR South Phase 2", said Alyamani. Both ports will continue cooperating on future-proof port management systems, maintenance strategies and sustainability for the foreseeable future. Alshibli: "The cooperation with Rotterdam is productive for SOHAR in many respects. We are extremely pleased with this partnership."