An accessible port
Lively "Europe on the Move" debate on trade and logistics, organized by the Logistics Alliance
20 May 2019
Last Thursday, the 16 May, an election debate took place in Nieuwspoort The Hague in the context of the upcoming European Elections. The debate was organized by the Logistieke Alliantie (Logistics Alliance), which also includes the Port of Rotterdam Authority.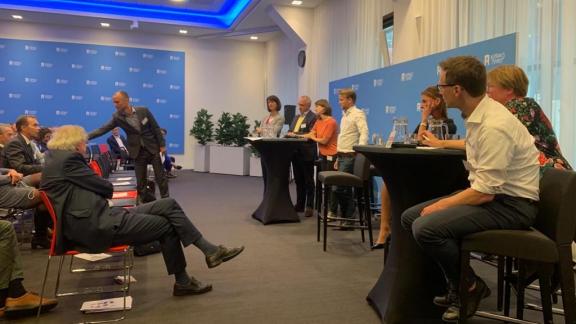 No fewer than eight Dutch candidates for the European Parliament explained how they view the challenge in the field of European transport and trade policy. Prior to the debate, Steven Lak, President of the Alliance, informed the participating parties that logistics are a means for achieving economic growth for trade and production companies. "There must be a good balance between economy and sustainability. The first may not destroy the other. Effective sustainability is a process of evolution, not a revolution." The subsequent debate made clear that the participating candidates were very much in agreement there, but differed considerably with respect to the way in which that transition must be effected. An extensive report on the course of the debate can be read here.
The Logistic Alliance consists of Transport and Logistics Netherlands, evofenedex, VNO-NCW, the Port of Rotterdam and the Port of Amsterdam, ProRail, Air Cargo Netherlands, MKB Nederland, Royal Dutch Transport, Royal Association of Dutch Shipowners, Central Bureau for Rhine and Inland Shipping, BLN-Schuttevaer, NVB, Association of Hydraulic Workers, ORAM, Deltalinqs, KLM Cargo and the Association of Rotterdam Shipping Agents.