Logistics Alliance sees bright future for green, safe and affordable freight transport Logistieke Alliantie ziet toekomst in groen, veilig en betaalbaar goederentransport
08 July 2019
The Logistics Alliance, a new association* of private companies, sector organisations and infrastructure managers like the Port of Rotterdam Authority, has drawn up an ambitious programme for the national and international transport and storage of cargo. This programme is intended to strengthen the Netherlands even further in terms of its competitive edge, safety and sustainability.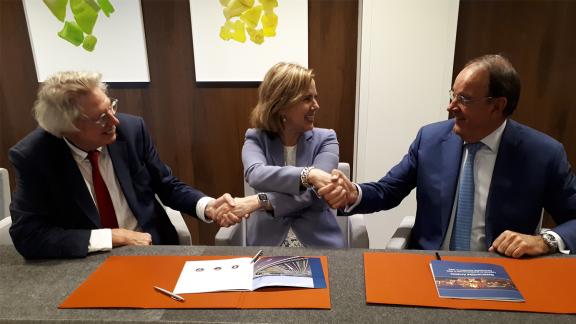 Shown from left to right: Steven Lak (chairman of evofenedex and chairman of the Logistics Alliance), Minister Cora van Nieuwenhuizen, and Aad Veenman (representing Topsector Logistiek)
To give new momentum to this objective, the alliance came together today to present Traffic Minister Cora van Nieuwenhuizen with an outlook document entitled 'Visie Handel en Logistiek in 2040'. The Alliance expects that by 2040, the import, export and supply of cargo will be handled according to procedures that are state of the art in terms of their environmental and social impact, safety and affordability. 'Over the next few years, we plan to take concrete actions within our logistics system, working together with the government towards an even more attractive and safer Netherlands,' explains the chairman of the Logistics Alliance, Steven Lak. The alliance members acknowledge a political need for freight transport by means of quieter, low-emission ships, planes, trains and trucks.
The Logistics Alliance is working together with the Ministry of Infrastructure and Water Management and Topsector Logistiek on the development of a cohesive approach to freight transport. This will consist of a freight transport agenda, an agenda for the logistics sector, and projects that are taken up by the private sector. In a second document entitled 'ambitiedocument topsector Logistiek' – which was also presented to the Minister today by project champion Aad Veenman – the Ministry of Infrastructure and Water Management, Topsector Logistiek and the Logistics Alliance set out their joint plans for the Netherlands' logistics system over the next couple of years.
The Logistics Alliance is made up of: evofenedex, TLN, VNO-NCW, MKB Nederland, the Port of Rotterdam Authority, Port of Amsterdam, ProRail, KNV, NVB, ORAM, Vereniging van Waterbouwers, Bouwend Nederland, CBRB, BLN-Schuttevaer, VRC, Koninklijke Vereniging van Nederlandse Reders, Air Cargo Netherlands, Deltalinqs.
Source: evofenedex