Innovation
McNetiq: magnetic scaffold anchoring for smart and safe maintenance
18 December 2019
Safe, economical and better for the environment: the magnetic anchor points developed by start-up McNetiq can be used to attach scaffolding to steel walls – no welding required. The future looks bright for the young firm. It's a great example of the positive impact of the port of Rotterdam's innovation ecosystem.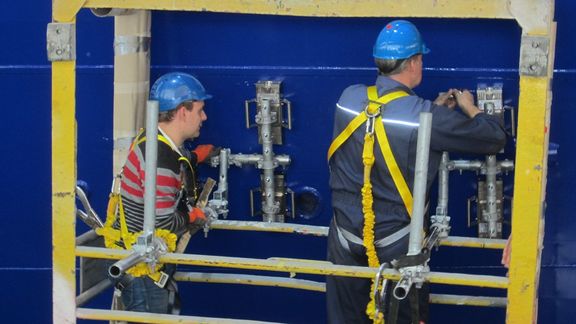 Edwin van der Heide and Bas Gravendeel have been working together on a variety of magnetic applications since 2009. Originally focusing on the climbing sector, in 2014, the partners established McNetiq to capitalise on their patented Controlock technology. The first product they put on the market is a magnetic anchoring system for scaffolding. Magnetic anchor points can be used for the smart and safe maintenance of all sorts of objects – anything from storage tanks and vessels to power stations and steel structures. Van der Heide: 'Our anchor points can be used to 'glue' the scaffolding to the steel wall. Usually when work needs to be done on a storage tank, they erect the scaffolding as a freestanding structure. This kind of scaffolding needs a large base and an array of buttresses to ensure stability. When you fix scaffolding to a tank using magnets rather than a conventional pyramidal arrangement, the structure can be up to six times smaller in terms of volume.
In the case of ship maintenance, the scaffolding is often welded to the vessel's hull. While welding joints are strong, port industry generally relies on them as a temporary solution. Welding has a serious impact on materials, people and the environment. And it is an expensive technology that entails an increased risk of fire and explosions. None of this poses a problem when you rely on magnetic anchoring points. In addition, the patented Controlock technology provides a 100% guarantee that the magnet will always work at maximum load-bearing capacity.'
New doors
In 2017 McNetiq was selected for the Port XL programme, where it was assigned a mentor from the Rotterdam Port Fund, one of the partners in the port's innovation ecosystem. Rotterdam Port Fund investment director David van Loo: 'The Rotterdam Port Fund is delighted to play a key role in the city's innovation hub. We help the businesses we participate in with financial support and advice. In addition, we work to bring them in touch with each other and other parties in our network – including the investors in our fund. We believe McNetiq is a company with a unique, patented product that will help make scaffolding construction safer and more cost-effective. Our involvement as mentor meant that we could help McNetiq improve their business plan. Together with InnovationQuarter, Rotterdam Port Fund has taken an equity interest in McNetiq as well as extending a loan to the firm. Our network contacts allow us to open new doors for the start-up. In short, we are helping McNetiq to move up to the next level in terms of turnover.'
According to RDM Programme Director Jouke Goslinga, McNetiq's story is a good illustration of how different links in Rotterdam's innovation ecosystem can strengthen one another: 'McNetiq started picking up steam after completing the PortXL programme in the Science Tower at Merwe-Vierhavens (M4H). After this, the company moved to RDM, in order to kick-start its production. A nice example of how we can bridge both banks of the river. At RDM, McNetiq can benefit from of all sorts of new opportunities, like exposure among the some 100,000 people who visit the site every year, guided tours and innovation events and education options and knowledge exchange. And thanks to companies like McNetiq, RDM has become even more inspiring as a hotspot.'
McNetiq also drew the attention of iTanks, a knowledge and innovation platform for port-related enterprise. iTanks is also a partner in the innovation ecosystem. iTanks Managing Director Cor van de Linde: 'When McNetiq asked whether iTanks could help them, we said yes. Willem van der Graaf, who works as a partner within iTanks, joined the McNetiq board.' Willem van der Graaf: 'We recognise the added value of this product. In five years' time, we expect McNetiq will have developed into an international business with established markets in each of the most important industrial countries.'
Roller coaster
Another thing to come out of McNetiq's participation in PortXL is its first client, Vopak. Van der Heide: 'We were assigned a mentor from within Vopak, who worked hard to boost interest in our system. It would be great if companies were able to persuade scaffolding contractors to adopt safe and efficient magnetic anchoring systems for maintenance jobs. But we ultimately plan to set up an entire product family in a range of different market segments like refining and shipping.'
Van der Heide is pleased with the way things are heading. 'The port of Rotterdam is the most innovative port in the world and RDM is a hotspot for maritime innovations. And our magnetic anchor points can help the Port of Rotterdam Authority realise its ambitions. The Port of Rotterdam Authority has put a spotlight on our work and is bringing us to the attention of other companies in the port. As a start-up, it feels like you're on a roller coaster. Right now, our train is still being pulled up the chain hill, but in a short while we'll clear the peak and start speeding along at breakneck speed. Aided by a cross-pollination of local companies and partners. This is definitely the right place for us!'
Innovation ecosystem
Innovation ecosystem
Market parties, knowledge institutes, governmental and semi-public organisations, test and prototype facilities, start-up accelerators, network organisations and investment funds support innovators in Rotterdam. The interactive infographic gives an overview of the innovation ecosystem and clarifies who can help in which phase of the innovation process.