MEP Paulus visits Port of Rotterdam
31 October 2019
Ms Jutta Paulus, German MEP for the Greens, visited the Port of Rotterdam Authority on Monday 28 October. Earlier this year she was appointed by the ENVI-committee (environment, public Health and food Safety) as rapporteur for the revision of the MRV file (the monitoring, reporting and verification) of CO₂ emissions from maritime transport.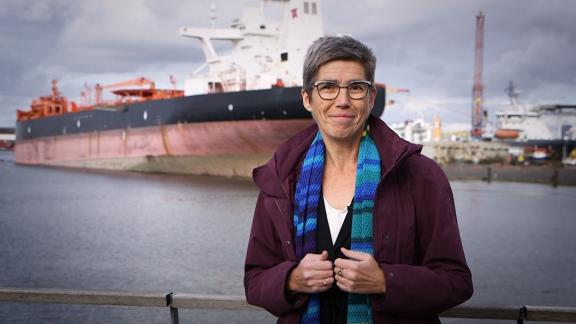 The working visit was therefore part of Paulus' Fact Finding Mission to learn more about the decarbonisation of the shipping industry, but also to find out more about the sustainability of the industry in the port area.
After a general introduction about the port of Rotterdam, various initiatives for a smarter and cleaner port and shipping industry were discussed. Among other themes, views were exchanged on (the review of) the alternative fuels infrastructure directive and the importance of shore-based power and cleaner alternative fuels for the decarbonisation of the shipping industry. In addition, efforts to reduce the CO₂ emissions of the industry in the port were discussed, such as the CCUS (Carbon Capture Usage and Storage) project Porthos. Then the essential role of hydrogen in the energy transition was discussed and the role of the Port Authority in this was explained.
A representative of BP Netherlands was there to present the actions taken by BP to reduce the emissions of the refinery in Rotterdam and to further explain the plans for a green hydrogen plant in the port of Rotterdam.