Energy transition
Minister Wiebes presented with H-vision report
03 July 2019
On 2 July, the 16 partners of the H-vision programme presented the results of the feasibility study into the use of blue hydrogen as an energy carrier for industrial operations. During the mini symposium 'Dé start van de waterstofeconomie', the Minister of Economic Affairs and Climate Policy Eric Wiebes was presented with the associated report by TNO board member Cis Marring and Deltalinqs chairman Steven Lak.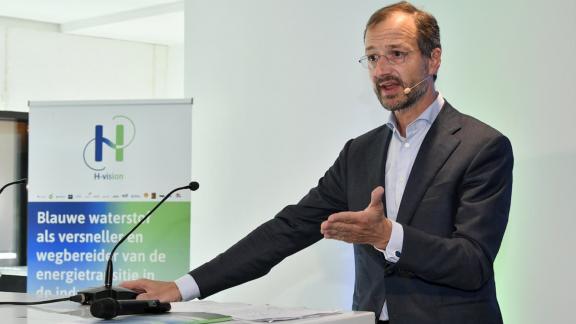 One of the findings of the feasibility study is that the industrial sector can use blue hydrogen to substantially reduce its CO2 emissions even before 2030. The positive results of this study could give major impetus to Rotterdam's development into a major hub for the production, uptake and trading of hydrogen. This means that H-vision can form the germ of a new hydrogen economy in Rotterdam and significantly contribute to the city's achievement of its climate targets.
During the mini symposium, experts from the private sector, the knowledge sector and the public sector, among other domains, offered a range of perspectives on the different challenges faced by industry when it comes to achieving the national climate targets of the Netherlands, as well as which opportunities blue hydrogen presents to the industry and the port of Rotterdam.