An accessible port
North Sea Agreement important for ports
23 April 2019
The Port of Rotterdam Authority considers it vital that the North Sea Consultation works towards a North Sea Agreement in the coming six months. This consultation is investigating where on the North Sea the challenges regarding food, energy and nature can be combined and where choices will need to be made. The Dutch Minister of Infrastructure and Water Management (IenW) is initiator of this consultation. The consultation concludes today, 23 April, after which an in-depth meeting will be held with the representatives on 8 May.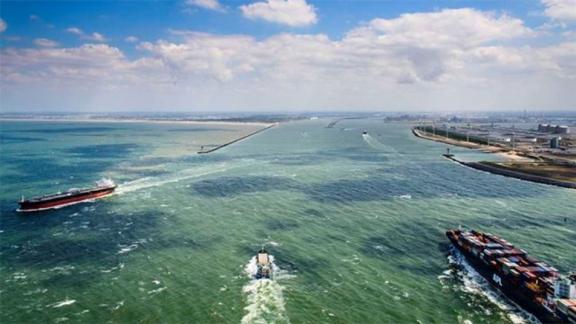 "The North Sea is not only our front yard, it is an essential element of the Port of Rotterdam and of all the Dutch sea ports. For Rotterdam, this starts 57 kilometres outside the coast, at the entrance of the Eurogeul. Smooth and safe handling of shipping depends on the space available for shipping on the North Sea. The North Sea is also vital for the energy transition in the ports. Recent research by Erasmus University indicated that 6.2 per cent of the Netherlands' national income is due to the Port of Rotterdam", stated Ronald Paul, COO at the Port of Rotterdam Authority and Chair of the Sea Port sector association.
The North Sea Consultation needs to result in a North Sea Agreement with strong ownership for the most involved social parties. This will lay a sound basis for the 2030 Strategic Agenda, which is planned for this autumn. This forms the prelude to the decision-making process for the 2022-2027 North Sea National Programme (successor to the current 2016-2021 North Sea Policy Document), which will start after this.
The Sea Port sector association is participating in the North Sea Consultation together with the involved ministries and other stakeholders. For the ports it is important that several port interests continue to be safeguarded. This includes the preservation of sufficient space for safe and smooth marine shipping at sea (in terms of space as well as in terms of a timely planning process). For the energy transition in the Port of Rotterdam, the North Sea offers important potential for sustainable energy and sufficient space for CO2 storage as temporary instrument in the growth towards a fully-sustainable energy supply. Other interests include bundling cables and pipelines as far as possible for efficient use of space; limiting pollution and disruption in an international context. Measures for shipping will run via the International Maritime Organization.