Permanent representation of the Netherlands to the European Union visits the port of Rotterdam
13 September 2019
On Thursday September 5th, a delegation of the Permanent Representation to the European Union has visited the port of Rotterdam at the invitation of the Port of Rotterdam Authority. The working visit served as an opportunity to exchange ideas about current European matters that are important for the port of Rotterdam.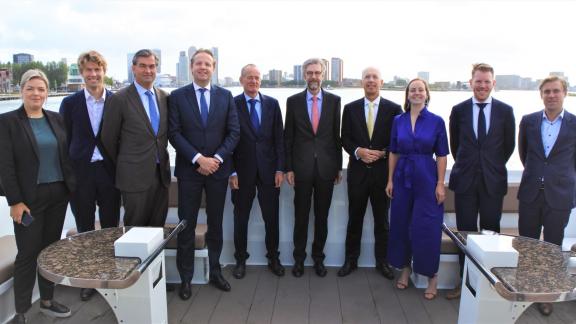 Among other things, developments regarding the Brexit and the energy transition were discussed. After being welcomed by Ronald Paul (Chief Operating Officer) on the Nieuwe Maze, the ECT container terminal and Sif on the Maasvlakte were visited.
The working visit was concluded on the naval vessel Zr. Ms Rotterdam, where a reception took place on the occasion of the World Port Days. Here the delegation was welcomed by the mayor of Rotterdam, Ahmed Aboutaleb.