Duurzaamheid
Playground equipment from fishing nets
27 March 2019
What to do with 300 tonnes of disused fishing nets? This was one of the assignments for teams participating in Blue City's 2018 Plastic Design Challenge, a Rotterdam breeding ground where start-ups develop initiatives to realise the circular economy step by step.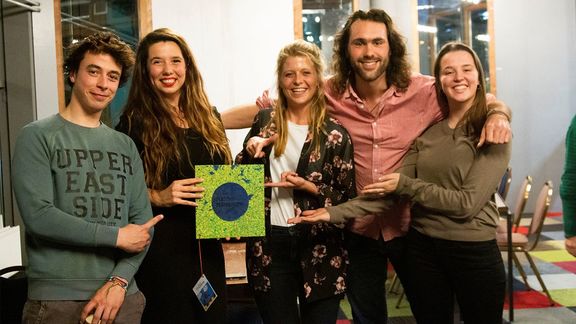 One of the teams was linked to the Port of Rotterdam Authority, which gave the assignment to find out how to reprocess fishing nets of mainly HDPE quality (high density polyethylene, a waterproof, stiff plastic) while retaining good economic value.
A volume of 300 tonnes of nets were collected in the port, including by the Fishing for Litter programme, in which participating fishermen collect and land plastic waste. A good reprocessing solution must be devised to prevent the plastic mountain from growing further.
Supported by the Port Authority, Team Plastic Playgrounds worked hard on this assignment and achieved a successful result. The team, comprising Valéry Bosch, Tim de Rooij, Luca Loli, Manon Willems and Martin Wodon, was announced as winner of this year's Plastic Design Challenge.
For fishing nets that cannot be reused in their original form, the team designed a recycling technology that involves cleaning, shredding and melting. This enables the material to be given a new lease of life, mainly in the form of playground equipment such as football nets and volleyball nets. The original fishing nets are still visible in these designs.