An accessible port
Port Authority and government agencies improve quality around most important freight corridors
22 November 2018
The Port of Rotterdam Authority, national government and four provinces have made agreements for more secure parking spaces and charging points for clean energy along the two most important freight transport corridors heading for Germany. To this end a declaration of intent was signed by the Minister of Infrastructure and Water Management, delegates of the Provincial Executives of Zuid-Holland, Noord-Brabant, Gelderland and Limburg and COO of the Port of Rotterdam Authority, Ronald Paul.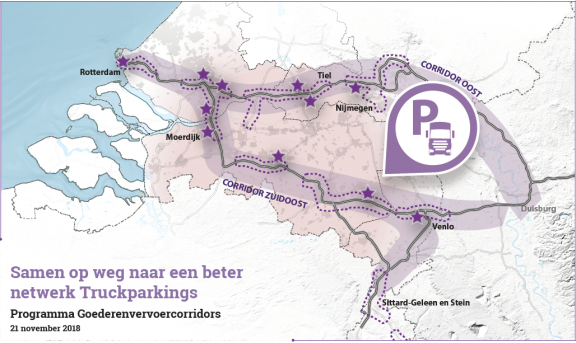 The above-stated organisations aim to ensure that traffic and freight flows can run as flexibly as possible, particularly in the Rotterdam region and German hinterland. The aim is to facilitate a smooth, reliable, robust, secure and sustainable transport system. These corridors contribute to economic growth as well as good quality of life along the most important hinterland connections heading for Germany: East corridor (road transport via A15, inland transport across the Waal, rail transport via the Betuwe Route) and Southeast corridor (Rotterdam-Moerdijk-Tilburg-Venlo).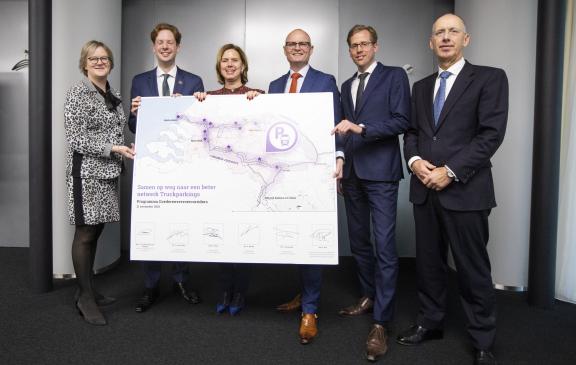 There is shortage of secure parking along these corridors, especially for trucks. The government and provinces will be facilitating this process by cooperating to realise between 700 and 900 extra parking spaces, offering financial support if necessary. Maasvlakte Plaza truck parking in the Port of Rotterdam also provides a model for the further roll-out heading east. Local governments will choose the final locations. The parking services' investors and operators will be responsible for the actual realisation and operation of the truck parking.
In establishing such environmentally-friendly corridors, there also needs to be a reduction in diesel use as fuel for freight transport. A network of filling points for sustainable fuels and other energy carriers for road transport and inland shipping is being established to reduce CO2 and particulate emissions and noise nuisance. As operator of Europe's largest port, the Port Authority sees developing such 'Clean Energy Hubs' as being in line in with its policy of playing a leading role in the European energy transition.
The signatories of the MIRT Administrative Consultation on Freight Corridors: Ms Cora van Nieuwenhuizen (Minister of Infrastructure and Water Management), Ms Stientje van Veldhoven (State Secretary of Infrastructure and Water Management), Ms Conny Bieze (Delegate Mobility, Environmental Permits, Regulation and Enforcement, Province of Gelderland), Mr Christophe van der Maat (Delegate Mobility and Cooperation, Province of North Brabant), Mr Hubert Mackus (Delegate Green, Agriculture, Infra, Rail and Monuments, Province of Limburg), Mr Floor Vermeulen (Delegate Traffic and Transport, Province of South Holland), Ms Nelly Kalfs (Chief Engineer-Directeur, Rijkswaterstaat).