Innovation
RAMLAB consortium receives €10 million for further development of 3D metal printing
10 December 2019
RAMLAB field lab, part of the Port of Rotterdam Authority, together with its consortium, is to receive €10 million in European funding for the extensive further development and application of 3D metal printing using welding technology. RAMLAB and its 20 European partners are working together to promote Wire Arc Additive Manufacturing (WAAM) technology. 'We will now be able to bring WAAM to the market more quickly and make it practicable for SMEs,' says Vincent Wegener, Managing Director at RAMLAB.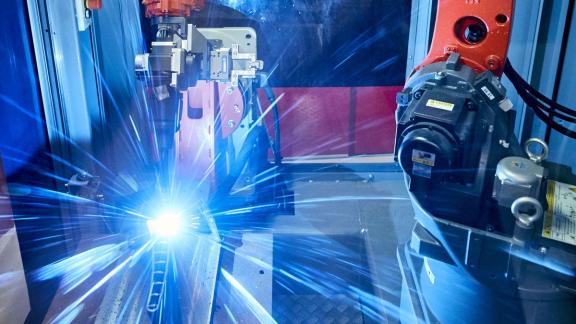 'The funding will allow us to print metal products with double the service life on an industrial scale. By controlling the process conditions, we will be able to certify products without further testing. These developments are revolutionary in the metalworking industry', says Wegener. He predicts that 3D printing will become the next big thing for European SMEs in Metalworking and Electrical Engineering Industry. 'The relatively expensive 3D printing technology will be put within easy reach of SMEs. It means we will soon be able to provide SMEs with an affordable WAAM service.'
300 extra jobs
Not only does WAAM technology mean products last twice as long, it makes them easier to repair. 'As we produce parts locally, we also make savings on transport costs, which means there's an added benefit: CO2 reduction.' Wegener also cites the example of 3D-printed ship propellers. 'Thanks to the project, we can print propellers using several materials and innovative designs that reduce ships' fuel consumption. It's good for the wallet and for the climate.' Wegener also expects that continued development at European level will create around 300 jobs. RAMLAB uses WAAM technology for the aerospace, automotive and shipping industries.
21 partners
The project involves 21 partners from different European countries working together. From the Netherlands, besides RAMLAB, the participating South Holland-based organisations are M2i (Materials Innovation Institute), TU Delft and Valk Welding. The next 4 years will be devoted to research and the further development of this technology. At the beginning of the New Year, RAMLAB and its partners will be organising a kick-off at RDM Rotterdam.