Innovation
RDM Rotterdam celebrates 10th anniversary
01 July 2019
RDM Rotterdam has grown in 10 years to become the place in which education and the business community collaborate on innovations in digital transformation, manufacturing industry, energy transition and human development. Where famous vessels such as the steam ship Rotterdam were built, the former Rotterdamsche Droogdok Maatschappij (RDM) shipyard offers space for companies, education and research. In the heart of the port - but still surprisingly close to the city - they work together here on innovations that contribute to a smart port. This is supplemented by a wide range of commercial and cultural events that make the RDM site a dynamic area.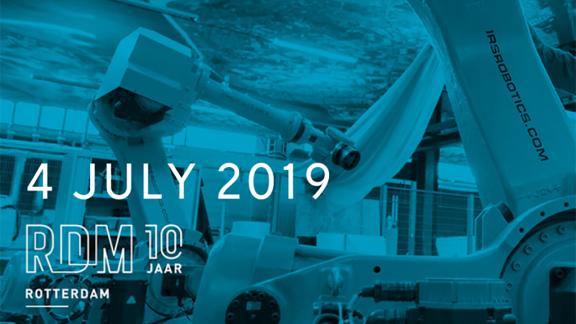 Campus
What is special about the RDM Rotterdam campus is the establishment of senior secondary vocational education and training (VET) and higher professional education in technology under one roof. The facilities, labs and machines used are state-of-the-art. As students also work on real-life projects for companies, there's also a good chance of a future job. This makes RDM an interesting place for students as well as offering an inviting opportunity for young people to choose to study technology.
Rotterdam Makers District
Together with RDM Rotterdam, the former Rotterdamse Droogdokmaatschappij and the flourishing M4H innovation hub form the Rotterdam Makers District. This is the place for entrepreneurs and knowledge institutes from the new economy. Young companies are given the opportunity to expand to become established companies. Young people can become familiar with technology. New technologies can arise through spontaneous partnerships. This makes this part of the city a testing ground for the circular economy. Innovative manufacturing industry flourishes in a vibrant city environment full of homes, catering establishments, education and culture.
RDM Rotterdam is celebrating this milestone on 4 July 2019. An important objective of this event is to offer a platform for innovation in the port and to make this visible. An inspiring programme has been put together relating to the themes of digitisation, human capital, energy transition and manufacturing industry, and countless projects, workshops and keynotes can be seen.