Innovation
RDM Rotterdam is golden
26 June 2019
Making waves #4
In Rotterdam we are continuously searching for answers to make the ports smarter, more efficient, better and more sustainable. How have partners addressed this, why, and what could they have done smarter?
Jouke Goslinga is Programme Manager at RDM Rotterdam.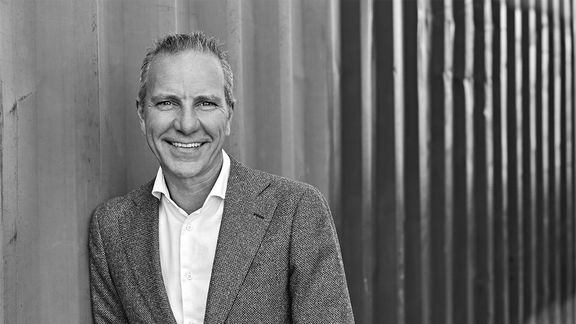 'I studied mechanical engineering at TU Delft in the 1980s; a magical time in which I also learned a lot outside of my studies. The programme then mainly involved theory and I thought this was a major shortcoming. You really need to get to grips with technology, feel it and play with it; that's when you create new insights and solutions. The best students ended up working as consultants or in banks, and I always thought that was such a waste. These days I notice that entrepreneurship and being a self-starter are gaining in popularity. If we link these initiatives to the challenges of our region, we can attract companies to this new, smartest port.
RDM is a place for pioneering and innovative manufacturing industry. It's a practical space in which technology comes to life and where various worlds converge: technology, the port, companies, students, research and innovation. I enjoy connecting these various worlds and people together. I'm just as happy in the corporate world as I am in the creative one. And that is what RDM is known for: creativity. Creating something from nothing is the most difficult thing there is. We should have a lot more respect for this. Here too, start-ups create something from nothing.
The port's image sometimes comes under pressure; for instance, the societal discussion about fossil fuels and CO2 emissions. The port has traditionally been an area in which people grasp opportunities. That's why, for me, the smart port is: a port full of opportunities. RDM aims to attract the smartest people for this. They realise that the biggest opportunities for sustainability and efficient working lie here. For a smart port it's crucial to be flexible and to have a broader perspective.
People say that jobs will be lost through automation, but I don't think this will be the case. If you use new technology in a smart way, this will result in a new manufacturing industry. You see this here too; people devising and operating new machines. That's how new employment is created. I'm an optimist and I think that, in the end, more jobs will be added than will disappear. However, the jobs will change and we will need to change with them.
The new technologies and unlimited opportunities of technology combined with design are what make this a great era. X Laboratory uses robot arms to construct simulations for the offshore industry. That's real science fiction and they started out in space exploration too. That such a company chooses for RDM says something about the business potential of our area. You also see that it becomes possible to design more and more organically. For instance, start-up Concr3de uses sustainable concrete for 3D printing of complex components for construction and for the port. They pitched a proposal to restore the burned out Notre Dame using rubble from the cathedral. They've even already printed "le stryge", the famous devil. It's fantastic that this kind of creative manufacturing companies are given the opportunity and space in the port and at RDM.
The port is in great need of qualified personnel at all levels. That is why we organise the TechMission010 event to make 13 and 14-year-olds enthusiastic about technology. It's a difficult target group ... actually you could say that we have a lot of experience with how not to do it! That changed when we switched this year to a much smarter and creative formula: in the form of an escape room in which young people needed to prevent the port being without power. They were really enthusiastic when they finished. Existing concepts and technologies from another world can sometimes cause a revolution.
RDM is celebrating its 10th anniversary this year. Actually, the development of RDM doesn't fit in any kind of box. Is it property development, area development, does it offer commercial opportunities or does it have marketing value? It is a little bit of everything and I'm proud that everyone feels connected with it. I think that there's a lot more to be obtained from this, for instance by connecting even more with TU Delft and Erasmus University. The development of M4H (together with RDM and Rotterdam Makers District) illustrates our ambitions.
The port has literally disappeared from the city. Terms such as digitisation, energy transition and innovation easily come across as abstract. But this involves people and hard work too. You see that here at RDM: "don't just talk about it, do it". But then given a revamp. We need to ensure that the port has a recognisable identity again. We need to translate the story of the new port in a smart way, with RDM as a pioneering place where you can change the world by making things. RDM is really invaluable.'