Energy transition
REKO investing € 125 million in second plant for thermal treatment of asphalt granulate
21 November 2018
REKO has started construction on a new thermal treatment plant that will process an annual total of 1.2 million tonnes of residual mineral waste – a mix of tar asphalt granulates and roofpaper – into clean sand, gravel, electricity and heat. The project, which will be realised in Rotterdam's port area, involves a total investment of € 125 million.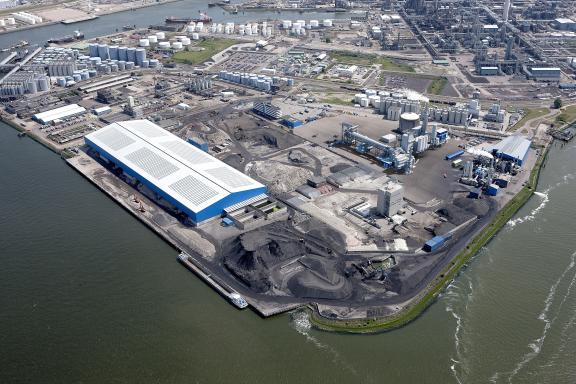 REKO, short for Recycling Kombinatie REKO B.V., produces sand, gravel and fillers from mineral residues. Most of the waste materials processed by REKO come from road re-construction (asphalt fragments) and building projects (roof paper). In the first decade of the 21st century, REKO, working in partnership with renown suppliers of process engineering equipment, developed an innovative process that specifically focuses on the thermal treatment of this mineral waste. This in-house development ultimately resulted in the construction of the first thermal treatment plant, which REKO took into operation in 2006. Since then, this system has effortlessly processed some 600,000 tonnes of mineral residues per year. Over the past 12 years, the facility has already produced some 7.2 million tonnes of clean sand and gravel for the Dutch building industry.
During processing, the asphalt is thermally treated in a rotary kiln at a temperature of 10000C, leading to the complete incineration of all harmful components. The thermal cleaning process results in clean sand, gravel and filler – ready for re-use – as well as hot flue gases. Energy recovery from the hot flue gases is accomplished by a waste heat steam boiler with a close coupled steam turbine which converts the heat into electrical power. The facility generates approximately 30,000 megawatts of electricity annually – roughly the equivalent of the annual power requirement of some 7,500 households.

The new thermal treatment plant will be considerably more efficient since it can utilise the latest developments in technology. In addition, REKO will be taking advantage of 12 years of experience in the field of thermal treatment. For example, the new system's power requirement is not only substantially lower than its predecessor – it will also generate a considerably higher amount of energy. The system will generate electric power for no fewer than 50,000 households. What's more: the system will not only be made suitable for supplying power, but also heat for district heating.

REKO's processing technology is a prime example of the circular economy, in which 100% of residues are converted into new raw materials, thus closing the supply chain. After realizing the new plant, REKO will actually have the largest processing capacity in the world for the complete recycling of this category of contaminated construction materials.
Recycling for a European market
In the past, coal tar was often used as a binding agent in the production of asphalt. Coal tar contains a variety of components that are undesirable from an environmental perspective, including polycyclic aromatic hydrocarbons (PAHs). That is why the use of coal tar in asphalt production was banned in 1990. In The Netherlands, tar asphalt that is produced during road maintenance, may no longer be dumped or re-used in the production of new asphalt since 2001. As of that year, tar asphalt granulates need to be processed in such a way that any environmentally hazardous components found in the material, including PAHs), are completed destroyed. Through its activities, REKO gives thus concrete shape to the government's objective to remove these harmful substances (PAHs) from our environment.

Through this regulation, The Netherlands was actually the first legislator in Europe to definitively remove PAHs from the supply chain. This year, the Flemish regional government (OVAM) followed their neighbours' example. REKO's new thermal cleaning plant will be developed in part to accommodate the expected growth of international demand.

REKO's Director David Heijkoop: "Thanks to the size of our facility, combined with the large-scale recovery of energy, we are able to limit the costs for our clients. Together with REKO's extremely favourable location in Rotterdam's port area – we can ship in tar asphalt by water – we enjoy an excellent competitive edge compared to other European facilities."

"Once you realise that The Netherlands actually imports 20 million tonnes of primary sand and gravel as raw material for construction every year, it becomes clear that we can satisfy a part of this demand," adds Heijkoop. "We can replace primary raw materials with clean sand and gravel from mineral residues from our thermal cleaning plant. The Dutch building sector has good use for products like these. A major added benefit is that it reduces the need for newly-extracted sand and gravel, leading to a lower impact on the landscape. None of the waste processed by REKO ends up in landfills. The PAHs are taken out from the environment. In other words, good news for both our landscape and the environment. Ships don't have to fill their holds with sand and gravel from abroad, but rather bring asphalt that can be converted into clean sand and gravel at REKO's facility. It's the embodiment of the circular economy."
Heat for district heating
The thermal treatment plant uses some energy to ignite the combustible components in the asphalt and bitumen. Since this incinerates every possible combustible component – including tar and PAHs – the process actually generates four to five times more energy than is supplied. In the existing plant, this energy is used to generate electric power. The new system is far more efficient when it comes to converting the energy into electricity. In addition, it will be adapted to also allow REKO to supply heat into the district heating network in the form of hot water. The Port of Rotterdam Authority will be contributing € 1 million for the realisation of this specific part of the system. In the near future, REKO will actually be free to determine which share of the energy released during the cleaning process will be converted into heat or electricity. If the city needs heat, REKO can opt for heat; if there is a reduced demand for heat (in the summer, for example), the energy can be converted into electricity.

Over the years, REKO has gained a wealth of experience in the thermal cleaning of asphalt and the production of construction materials from mineral residues. As such, the company could incorporate a great deal of its employees' expertise in the design of the new plant. Construction on the new thermal treatment plant has already started, and the plant is expected to be taken into operation in mid-2020. REKO's workforce will also increase in connection with the expansion, from 120 to 140 employees.