Digitisation
The road to Port Call Optimisation
10 April 2018
You may have heard something about it this autumn: a variety of interest groups, port authorities (including the Port of Rotterdam Authority) and private companies have jointly adopted standards for nautical port information. While it may not sound particularly exciting, this development is actually a key condition – and starting point – for optimising port calls. And it's due time that this optimisation took place: every year we waste billions of euros and release tonnes of CO2 due to inefficiency and unnecessary delays.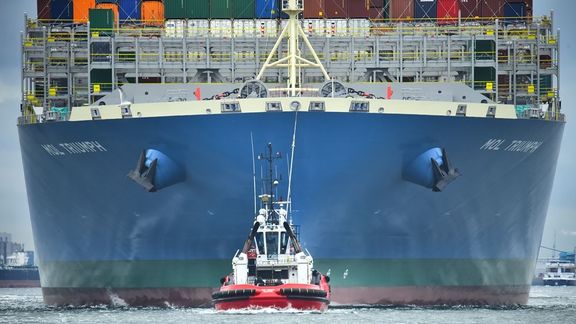 The standards stipulate, for example, which system is referred to for water depths and how to communicate admission policies and vessel's arrival and departure times in the ports. In the past, information like this was defined and communicated in a wide variety of ways. To name one example: in the Netherlands we often use the Amsterdam Ordnance Datum (NAP) as a zero level benchmark for height and water depth measurements. In Belgium, however, they use the Second General Levelling (TWA) reference level, and France refers to the average sea level at Marseille. For an Indian captain departing from the port of Singapore, it is a pointless and time-wasting hassle to have to recalculate the depth under the ship's keel every time it enters new waters.
20,000 TEU
This discrepancy between definitions has had far-reaching consequences. To properly plan a port call, shipping companies need detailed information about a range of factors, including depth, water density and the port's admissions policy and arrival and departure times. For a 20,000-TEU ship, a slight variation in water depth makes a big difference in how much cargo it can load. When you keep in mind that a captain may call on some 800 ports across the planet, you can imagine that it is virtually impossible to take every variation in definitions worldwide into account.
In fact, when a shipping company has a clear picture of local water depths and vessel speeds, it can adopt tighter safety margins in its planning. This means that a ship can enter the port at a higher speed and with more cargo on board. This results in extra revenue and a reduced environmental footprint. Bearing in mind that every year some 30,000 sea-going vessels enter and leave the port of Rotterdam alone, it is clear that this seemingly innocuous measure is actually a major step forward.
PRONTO
The internationally adopted standards will result in better communication, increase efficiency and improve safety conditions. But they present a range of other opportunities besides. Right now, each port call is still accompanied by a flurry of phone calls between different parties involved. These parties include shipping companies, agents, pilots, terminals, linesmen and towing companies and providers of other services – bunkering, for example. The exchange of uniform, compatible data would make it a lot easier to draw up a smarter, safer and more efficient planning for these port calls and handle visits more swiftly and safely. To facilitate this, the Port of Rotterdam Authority has developed the PRONTO application. PRONTO provides shipping companies, agents, service providers and operators with a joint platform for the exchange of port call information. PRONTO increases the transparency and efficiency of services provided during a call. This presents concrete advantages for all parties involved.
Twenty-percent-shorter lead times
The first quantitative advantages of Port Call Optimisation with the aid of PRONTO have already been established: a recently concluded pilot project involving shipping companies, terminals and agents showed a 20% reduction in lead times.
The first version of PRONTO will be made available to users in Rotterdam in the second quarter of 2018. After this introduction, the application will also be shared with other ports. Because as so often is the case: whenever we adopt the same applications around the world, this contributes to the efficiency and safety of international transport in general.