From Rotterdam with love
19 September 2019
Following the visit by Russian representatives to Port of Rotterdam terminals, shipping companies and other maritime and logistics companies last year, the invitation was returned yesterday. In the Belmond Grand Hotel Europe in St. Petersburg, a delegation of Dutch business community, municipality and Port of Rotterdam Authority representatives engaged in discussions with their Russian counterparts.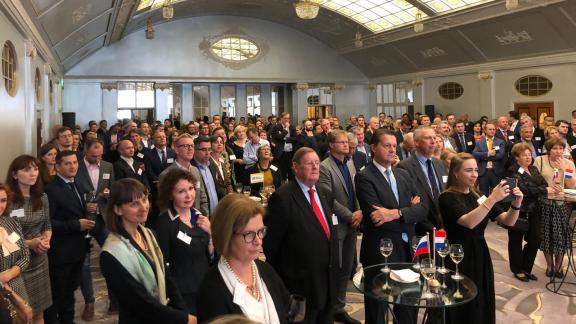 The meeting was opened by Richard van der Eijk, Director of Communications & External Affairs and Lionel Veer, Consult General of the Kingdom of the Netherlands in St. Petersburg. Hans Nagtegaal, Manager Containers, focussed during his short presentation on the increasing volumes in the container and breakbulk segments between St. Petersburg and Rotterdam.
A total of 250 Russian and Dutch participants took part in the 'Russia meets Rotterdam' networking event, strengthening connections between the two countries. As well as trade and logistics, discussion also included the possibilities for more intensive cooperation with respect to digitisation and the energy transition. Organisers the Port of Rotterdam Authority and the Dutch consulate general in St. Petersburg can reflect on an extremely successful day.