Rotterdam maintains important partnership with NRW
22 June 2018
Following the inaugural visit by Armin Laschet, Prime Minister of North Rhine-Westphalia, in September last year, the Rotterdam Port Authority, the City of Rotterdam and the Dutch Consul-General jointly held a summer reception in Dusseldorf last Tuesday, 19 June.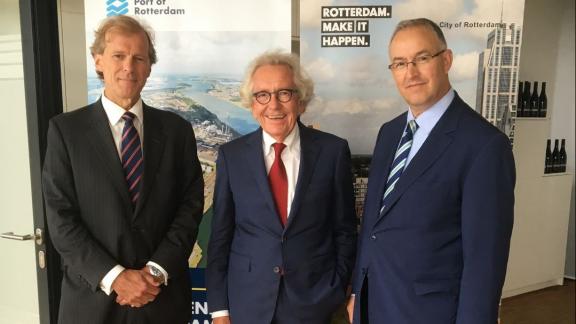 The evening's themes were the intensive partnership and close economic links between NRW and Rotterdam, and also mutual challenges in the areas of transport & logistics, urban development, the shift to renewable energy sources and digitalisation. Minister Holthoff-Pförtner (centre) opened the event on behalf of the prime minister with a word of praise for German-Dutch cooperation.
Allard Castelein, President of Rotterdam Port Authority (left), and Rotterdam Mayor Ahmed Aboutaleb (right), spoke about their visions for the Smart Port and the Smart City of the future. Both also reported back briefly on their exchanges with Prime Minister Laschet, which took place the same day. All those involved will soon start working on an agreement on infrastructure and ports, which was previously announced in the NRW coalition agreement.
Following the official inauguration, there was opportunity for those attending from business and politics to exchange views on what was said previously and on topical issues. For the Mayor of Rotterdam, the visit was simultaneously the start of a four-day trip through North Rhine-Westphalia.