Rotterdam Offshore Wind Coalition reaffirms ambitions
07 August 2019
During the Executives Dinner, the CEOs of the 23 participating organisations reconfirmed the course of the Rotterdam Offshore Wind Coalition, which started in 2016. The ambition is to make Rotterdam the offshore wind hotspot of Europe. The leaders of Tennet, Van Oord, Sif Group, STC, Jules Dock and Seaway Heavy Lifting, among others, signed a manifesto for this purpose.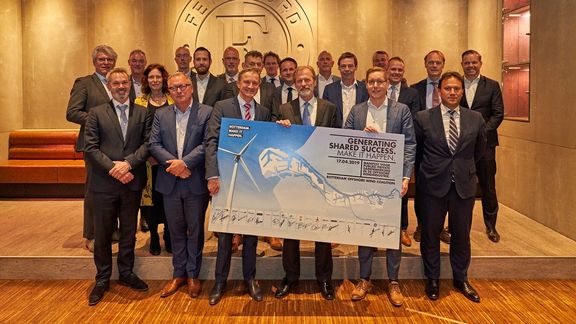 The same thing had happened when the company was founded in 2016. "However, developments in the offshore wind market are progressing so rapidly that we thought it would be a good idea to see if we were all still in favour of the same thing," says Twan Romeijn, Business Manager Breakbulk and Offshore Industry at the Port of Rotterdam Authority. "This turned out to be the case, so that we can continue to build on Rotterdam as the wind harbor with renewed energy in order to also implement the energy transition.
The ROWC has not been idle in recent years. We mainly worked on supporting offshore wind related projects and innovations, lobbying in the field of energy transition, knowledge sharing and strengthening the labour market position. Concrete projects currently underway include the development of composite towers, new piling techniques and the expansion of physical space for marshalling activities. Romeijn: "Over the past two years, we have seen that participants have been able to find each other even better in order to take on joint projects. That is the strength of this network."
In the near future, the coalition will continue its efforts to position the economic cluster powerfully as the 'Rotterdam Offshore Wind Coalition', based on the opportunities and the good starting position of Rotterdam. This applies to the construction, operation and maintenance sectors as well as related services such as training, education, finance and insurance. With the possibilities in and around the port area for testing and demonstrating offshore wind techniques and the upcoming development of wind farms near the port, everything is in place to further expand Rotterdam's position.