Rotterdam Offshore Wind Coalition reaffirms collaboration
24 April 2019
At the National Wind Energy Event at De Kuip in Rotterdam on 17 April, members of the Rotterdam Offshore Wind Coalition jointly agreed to continue their collaboration. The companies in the coalition cooperate in marketing and branding, education and training, policy and lobbying, and acquisition and innovation. Europe's leading offshore wind cluster is working towards an innovative and sustainable society.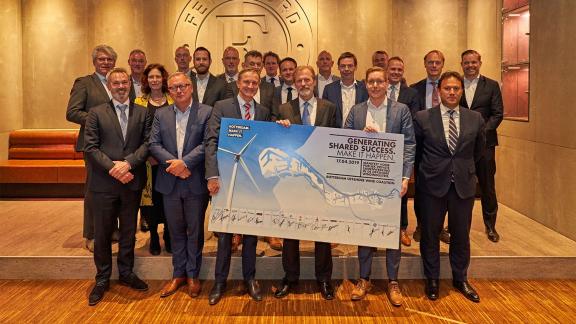 The coalition started in 2016 and, for the past three years, has been involved in supporting offshore wind-related projects and innovations, energy transition lobbying, knowledge sharing and strengthening the labour market. The Rotterdam companies aim, as cluster, to continue to play a leading role in offshore wind energy, in terms of construction, operation and maintenance as well as with respect to related services such as training, education, finances and insurance.
The coalition will continue to work hard during the coming period to use the opportunities for offshore wind and Rotterdam's ideal situation to firmly position the economic cluster as 'Rotterdam Offshore Wind Coalition'. The possibilities for testing and demonstrating offshore wind technologies in and around the port area and the forthcoming development of offshore wind farms near the port, provide all the necessary ingredients to further expand Rotterdam's position. Concrete projects currently being undertaken include the development of composite towers, new pile-driving technologies and the expansion of physical space for marshalling activities.
The Rotterdam Offshore Wind Coalition comprises Van Oord, Boskalis, Mammoet, SIF Group, Ampelmann, RelyOn Nutec, Huisman, STC-Group, STC-KNRM, GE, Damen, Eneco, Marsh, Peterson, Rabobank, Jules Dock, Visser & Smit Hanab, TenneT, Seaway 7, Port of Rotterdam Authority, Municipality of Rotterdam and Rotterdam Partners.