Innovation
Rotterdam port innovation programme PortXL participants announced
21 February 2019
After a year of scouting, 21 innovative projects were selected during the fourth PortXL. The projects came to Rotterdam from across the world to earn a place in the accelerator programme.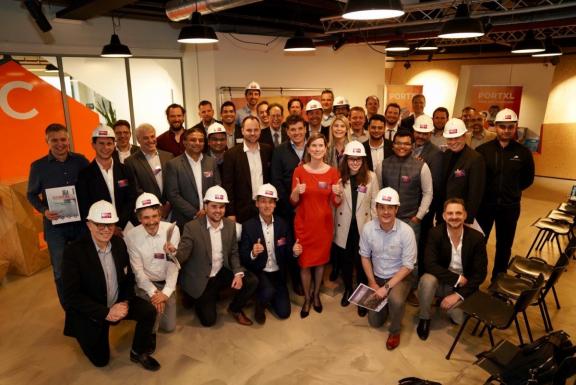 Following two intensive days of pitching and interviews with port and innovation experts, a total of 28 start and scale-ups were evaluated by an expert jury. Ultimately, 7 start-ups and 14 scale-ups will be working on their product in the coming months, during which PortXL will prepare these for the market within 100 days. They will present their final results during the closing Shakedown event on 20 June.
The participants
During the selection days on 18 and 19 February, the candidates were questioned intensively on topics including technology, finance and business development by over 180 mentors and port and innovation experts. The following initiatives were selected:
Start-Ups
Big Yellow Fish Technologies – India
Eco Wave Power – Israel
Flower Turbines – United States
League Geophysics – The Netherlands
Shipin Systems – United States
sHYp – United States
Subsea Mechatronics – Spain
Scale-Ups
andSafety – The Netherlands
Buffalo Automation – United States
Forward Water Technologies – United States
Hydromea – Switzerland
Keyou – Germany
Lader Tech – United Kingdom
Planys Tech – India
Railapp – The Netherlands
Richtlijn Geodesie – The Netherlands
Secure System – United States/Germany
Semiotic Labs – The Netherlands
Sensar – The Netherlands
Shipmax – United Kingdom
Verton Technologies – Australia
And what's next?
In the coming three months, the selected participants will follow a programme in which they obtain support in both developing their product and in enabling the growth of their company. They will be supported in this by mentors from the port business sector. The 14 scale-ups will be offered a specially established Business Fast Track programme. The 21 candidates will present their progress and final results during the closing Shakedown event on 20 June.
About PortXL
PortXL is the world's first Maritime Port Accelerator and is unique in its kind, with a global network of leading companies and experts. The objective of PortXL is the acceleration of innovative technologies for the maritime, logistics, energy and chemical industry sectors in port regions across the world. In doing so, PortXL activates the largest possible ecosystem to stimulate entrepreneurship for all involved parties. The PortXL ecosystem comprises start-ups and scale-ups, investors and partners, and market leading companies such as Van Oord, Port of Rotterdam, EY, Royal IHC, Mammoet, Vopak, Boskalis, Shell, Rabobank, City of Rotterdam, Rotterdam The Hague Airport, InnovationQuarter and ECE.
Would you like to know more? Visit and follow PortXL on Twitter, LinkedIn and Facebook to stay informed of the start and scale-ups' progress.