An accessible port
SCOPE helps chain partners to be better and more reliable
12 November 2021
With the SCOPE project the Port of Rotterdam Authority helps chain parties to sit together to get to know each other's processes and gain better insight into the supply chains.
Scania Logistics is one of the participants in this project and already benefits from the discussions, 'because it leads to higher reliability and more understanding among participants of why we do things the way we do.'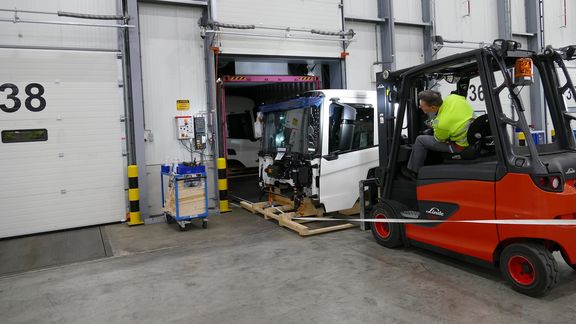 Gaining better insight into the chain in order to improve its reliability together sounds logical and easy, but it is very hard to bring about in practice. Such projects are often about mutual trust, sharing data, and taking time to get to know each other. The SCOPE project was initiated by the Port of Rotterdam Authority to support this and has been quite successful. At Scania in Hasselt, we notice that the project helps gain better insights and consequently achieve better results throughout the chain in the long term too.
While the containers are being loaded across the Scania premises at the inland terminal of Westerman, Group Leader Material & Transport Overseas Rick Slot tells us why they decided to participate in SCOPE. 'We centralised several large export and import flows in Hasselt and other places. Containers arrive here and depart from here to their destinations. Once they have been emptied, some containers return to Rotterdam, and sometimes an empty one returns to be loaded for export. This has been the process so far. We would prefer an improved situation in which all containers can be reused. We want to find the proper chain partners for this.'
Neutral position
SCOPE presented a wonderful opportunity to explore this further, in collaboration with Westerman and deep-sea terminal Hutchison Ports ECT Rotterdam. 'The port authority has a neutral position where the container chain is concerned. We have come a long way in optimising the chain, with an entire engineering department to bring to bear. Container transport is becoming increasingly important to us, and reliable turnaround times are a must. We want to rid the chain of all waste. Of course we have excellent contacts with our closest chain partners, such as Westerman, and with the terminals, but not with every chain partner. This means that it is not always transparent what is happening to the freight. Via SCOPE, however, we do get these insights. Submitting data has not been a problem to us, provided that this is based on good agreements. We are certainly open to this.'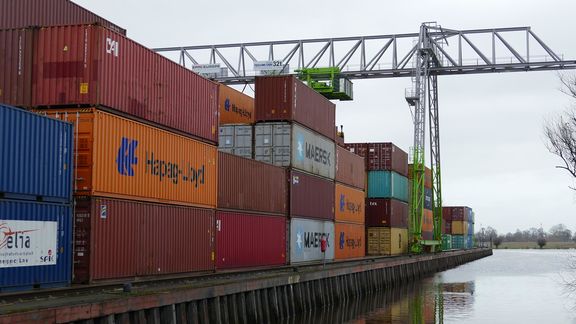 According to Slot, it is due to the high amount of insourcing that they have managed to optimise a lot. 'We already have an efficient, splendid network in Europe. This also applies to a certain extent for everything that comes in by ship. We have contracts with ocean liners and discuss transport to and from Hasselt with Westerman and others. We have less contact with the parties Westerman does much business with, for instance, but perhaps there are more possibilities. Besides, there might be some low-hanging fruit that would be to everybody's benefit. If we know more about each other, it will help in drawing up contracts and making turnaround times more predictable, with this project as a tool.'
The interviews for getting all chain partners at one table were arranged by Ellen Naaijkens, Senior Business Manager Shippers & Forwarders at the Port of Rotterdam Authority. 'We have contacts with all of these parties and can organise this assistance well. As a port authority we do not have an opinion, but we help in providing insight into all available data. In a workshop, we let people discuss these insights. If the average duration of containers at a terminal is long, these people can discuss the reasons and whether any changes are necessary. Parties are sometimes ignorant, and the time at the terminal might be shortened drastically if information were exchanged sooner.'
Slot noticed that insight has improved. 'Of course we had business connections with most parties, but some were more or less unknown to us. SCOPE enabled us to get to know each other fairly easily and to think along to improve the chain. What are the possibilities, and what is there for us to explore? Some in-depth analyses have also been conducted, so this will certainly be continued. Even after the first sessions, we gained more insight into turnaround times and reliability. This was most valuable, especially for the long term.'
Now that we know more about the chain, we can improve our models, with better forecasts as a result.
Rik Teunissen
,
Material Supply Engineer
,
Scania
His colleague Rik Teunissen, Material Supply Engineer, already uses this in practice. 'We use models for calculating product turnaround times, but we want to know how reliable and accurate these are. Now that we know more about the chain, we can improve our models, with better forecasts as a result. We can also put out more competitive and more specific tenders on the back of these better insights. Especially in the long run this is a bonus.'
Added value
This has added value not only for Scania but also for other chain partners, Slot explains. 'We know when an inland vessel puts in at a certain Rotterdam terminal. It may be better to rearrange volumes on certain days, so that other chain partners can also collect sufficient volume via other clients and more terminals can be visited on another day. This is better for us but also for the other parties in the chain. These are huge optimisation opportunities for us. It also makes us more reliable towards other parties. We have a preference for inland shipping, because it is more sustainable than road transport.'
This is the first time this data is combined. 'All information is available, but it has never been combined and analysed before,' Naaijkens says. 'Providing insight into this data and presenting it in a uniform manner to all chain parties at the table was important. A growing number of chain parties realise that optimisation only works if you do it together. Not only the shipper is important in this but also the terminals. Take this example of Scania. An analysis of Scania's container flow showed that since the introduction of the so-called North West Central Corridor approach, the inland shipping route has become more efficient. By adjusting the sailing schedules and using a fixed window, the waiting times at the deep-sea terminal in Rotterdam have been shortened and reliability went up. In this way, there is something in it for all parties in this corridor.'
Understanding
Slot confirms this. 'There is better understanding for each other's position and for the challenges in the chain. Previously, there was contact at an operational level first, and only then was there a dialogue. But actually, you want to know a problem is around the corner before it occurs. Now, it's easier for us to get the phone, and we understand one another more easily when something doesn't work. We realise that something small for one party can have big consequences for another. The first developments show that ECT is currently thinking along proactively and making suggestions for improvement. That's brilliant. It's easier to get in touch now, and we know each other's interests better.'
Yet, many companies do not like sharing their data just like that. Not so at Scania, according to Teunissen. 'We are not worried. We have entered into clear confidentiality agreements, and the data are anonymised. We submitted container numbers, dates, and times but not what is in the containers. There can be a good balance between what you can share and what you can't share and still provide sufficient information to work with.' Naaijkens adds that nobody gets insight into the other chain party's data. 'We only share the analyses.'
Support
Especially the sharing is important, Slot says. 'With data you can optimise your own processes, but if you do not compare everything, you have no way of telling whether the optimisation is good or not. If everybody has an internal focus, everybody will create their own truth, so everything will be multi-interpretable. This is where SCOPE comes in: one truth is created, which makes it easier to discuss things.'
We will not get everybody's support if there is nothing in it for them
Ellen Naaijkens
,
Sr. Business Manager Shippers & Forwarders
,
Havenbedrijf Rotterdam
Of course, the SCOPE process should provide added value for every chain party. 'We will not get everybody's support if there is nothing in it for them,' Naaijkens says. 'It's clear that everybody cooperates, but sometimes it is difficult to supply data, because the quality differs from party to party. One has made more progress in digitisation than another. On the other hand, even the latter participant has to supply data and will do so. Companies realise they have to participate in the chain and are encouraged to work in a data-driven way. We are also working with SCOPE in Germany, where we notice that this is even more of a challenge.'
According to Naaijkens, the Port of Rotterdam Authority has set up SCOPE to tie underlying container flows to the port of Rotterdam by strengthening the chains on the basis of more transparency and data sharing. 'We are not a digitisation project, but we are rather performing process management – the softer side, making contact, in which we play a facilitating role.' This is not only fruitful at Scania. 'On a much broader scale, there are good discussions with freight forwarders that join on behalf of shippers. Not seldom, they even don't know a deep-sea terminal like ECT well, although they work with it on a daily basis for their clients. If they can realise an improvement for a freight forwarder's client A, it may also be useful for clients B and C.'
As a neutral party, the port authority can play its role as a facilitator perfectly. 'SCOPE has to be a catalyst for improvement and gaining insight. Parties trust that we don't abuse the data, but we can add value via an analysis and by bringing the chain parties together.' Slot and Teunissen share this conclusion. 'It leads to fine, new insights. If you give in a little bit somewhere, you could win a lot more somewhere else. Letting go of your own interest and looking at the interests of the chain may bring in the best result in the long term, also for you.'
SCOPE
SCOPE is a joint approach for an optimum supply chain, in which the Port of Rotterdam Authority contributes to creating value for shippers and freight forwarders by helping them improve their supply chains via Rotterdam. Shippers interested in the SCOPE project can contact Ellen Naaijkens.
Source: evofenedex / text and photo's: Job Halkes
More information? Contact: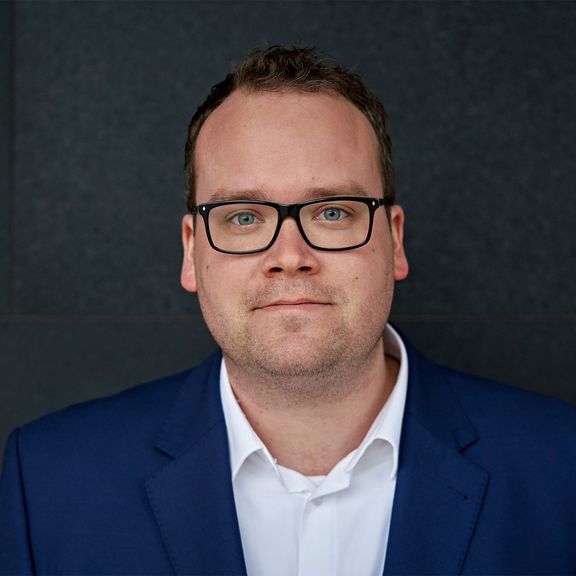 Daniel Bollard
Business Manager Shippers & Forwarders