Innovation
SmartPort announces partnership with new partner MARIN
30 October 2019
SmartPort, the Rotterdam knowledge platform for innovative scientific research, has organised the third SmartPort Summit. During this annual event the results and impact of research studies were shared, including the development of smart quay walls, smart shipping and electrification to accelerating innovation in the Port of Rotterdam.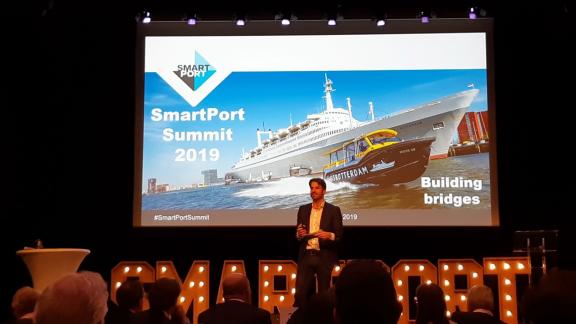 As well as TNO and Deltares, MARIN is the third TO2 organisation to join SmartPort as strategic partner. SmartPort sees MARIN's knowledge and skills as a welcome addition to provide a scientific foundation for future issues faced by the port of Rotterdam. Bas Buchner, Managing Director of MARIN: 'We are delighted with this new collaboration with SmartPort. We expect to be able to use our expertise to contribute to the challenges faced by the port of Rotterdam. This includes things as autonomous vessels and the interaction with traffic control, sailing through silt so that dredging doesn't need to happen so often, or the reduction in shipping emissions. Topics that are a good match for the MARIN mission: contribute to a clean, safe and sustainable use of ports, waterways and the sea.'
Accelerate port innovations together
TKI Dinalog is extending the TKI scheme with SmartPort. This scheme is a programme premium for research and innovation activities. TKI Dinalog works with companies, knowledge institutes and the government on innovation programmes from the Top Sector Logistics. Challenges such as truck platooning and a smart port infrastructure underline the fact that by forging coalitions and through scientific research, innovations can be accelerated. With new partners, existing partners and the network grant from the Province of South Holland, SmartPort is assured of the right 'fertile' environment to give a further boost to innovations.
About SmartPort
SmartPort is an alliance between the Port of Rotterdam Authority, Deltalinqs, the Municipality of Rotterdam, MARIN, Erasmus University, TU Delft, TNO and Deltares. SmartPort is dedicated to the development of knowledge for the collective ambition. Focus areas include smart logistics, smart energy & industry and future-proof port infrastructure.