Innovation
Time for 'truck tinder': matching app for truck platoons
07 December 2018
Maasvlakte Plaza is located close to the main road. The huge parking area offers a secure service where truck drivers can stay overnight and chat to each other. Truck drivers don't need to take any detours, and they have access to all the basic provisions that they and their trucks need. Showers, food and drink or, if necessary, calling at a tyre specialist and petrol station. Everything is organised perfectly. In short, it's a safe overnight location in Rotterdam for both driver and cargo. Maasvlakte Plaza confirmed the findings of one of the SmartPort* research projects, namely Truck Platoons: driving trucks in a platoon from Maasvlakte 2 to the hinterland.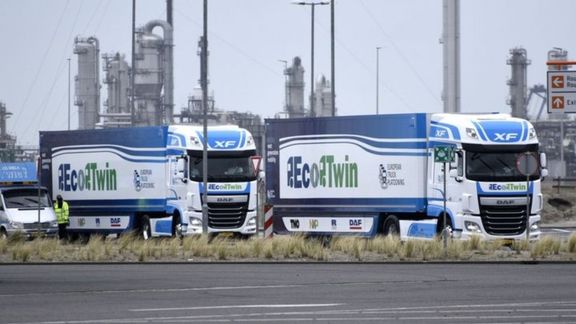 New modality
Truck Platoons entail one or more platoons of three to five trucks driving behind each other; a new modality. A train on the road. This has various advantages. As the drivers drive close behind each other, it offers an approximate ten per cent saving in fuel and thus CO2 emissions. Driving close behind each other enables them to move flexibly through the traffic, resulting in improved traffic flow on the motorway. A truck platoon is safer, as it largely removes human error. Routine tasks such as staying in lane and sticking to the correct speed/distance are controlled automatically. An additional advantage is that this enables flexibility regarding driving hours regulations. Truck drivers can rest more often when they want and not only when indicated by the tachograph. All in all, truck platoons deliver savings of approximately € 5,000 per truck per year.
Scale
Now we know it's technically possible to have trucks drive in a train, the next step is about scale. A control unit needs to be built in, which is expensive. That is why, by 2020, we aim to have at least a hundred truck platoons a day driving on the A15, comprising at least three hundred trucks and six hundred containers. This will reduce costs. As well as scale, a matching app is another important condition. This enables drivers to exchange logistics details with each other and agree to drive together. A digital application that can be realised using the available data.
Maasvlakte Plaza is thus ideal for drivers to 'match' for Truck Platooning. Because there's no better place for truck drivers to 'date' than where 400 colleagues are parking their trucks. You exchange data via the app, refuel and drive off together.
*SmartPort is a partnership between Port of Rotterdam Authority, Deltalinqs, Municipality of Rotterdam, TNO, Deltares, Erasmus University Rotterdam and Delft Technical University. By inspiring, initiating and forming alliances, SmartPort stimulates and finances scientific research for and by companies in the Port of Rotterdam, in partnership with knowledge institutes.