Bereikbaarheid
VEGA-VTG platforms add further rail options in Rotterdam as well
25 January 2021
The C.RO Ports terminal in the Botlek is the first terminal where the 'VEGA-VTG plates' will be made available. These platforms look like mega stretchers and can be used for transporting non-cranable trailers by rail. 'It's a further extension of the rail market.'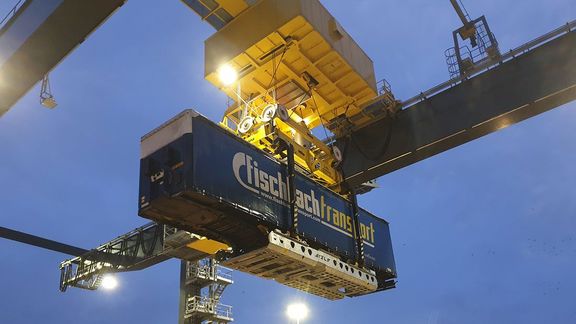 The VEGA-VTG is an Austrian invention by the company of the same name. 'It's quite a simple construction, really,' says Thom Derks, the Benelux agent for this product. 'But incredibly effective. The trailer is driven onto the platform, after which it can be loaded on board the train wagon by the four "ears" of the VEGA-VTG plate – very much like a huckepack.
Doubling
In the Netherlands, GVT was the first party to use this innovation. Since mid 2020, this Tilburg-based company has successfully deployed sixteen units. Rotterdam will be the second logistic hotspot from where the VEGA-VTGs will operate. For the time being, five units are available three times a week on the route between the UK and Rzepin in Poland, which is operated by Retrack. Derks: 'I expect the capacity to double soon, for the market is responding enthusiastically. All of a sudden, this platform makes rail transport a viable option for parties that would normally never use it. This is about normal trailers that could otherwise never be lifted onto railway wagons by crane, but there are also applications for glass trailers from Van Huët Glass Logistics. The current fleet does not need to be replaced. That's good news, of course.'
'It's a fine example of a seemingly simple innovation with a huge impact,' adds Matthijs van Doorn, Logistics Manager at the Port of Rotterdam Authority. 'It is suggested that 80 percent of the trailers are non-cranable. This solution opens the door to transport by rail for these trailers. These are extra steps towards achieving the sustainability objectives by means of the modal shift to rail freight transport.'
There is a fair chance that in addition to the C.RO terminal, the Rail Service Center Rotterdam will enjoy the availability of the platforms. Derks: 'They need the platforms for tank trailers, for which the VEGA-VTG method comes in handy too.' The fourth location in the Netherlands where the innovation is going to be deployed is probably Venlo, where the Cabooter Group wants to use them this spring.