Energy transition
Warehouse 6 boosts bulk transhipment
29 March 2019
With the completion of Warehouse 6 at EBS Laurenshaven terminal, the Port of Rotterdam has gained yet another asset in the transhipment of high quality minerals and biomass. For European Bulk Services (EBS), this also heralds the next step in the transition from coal to other products.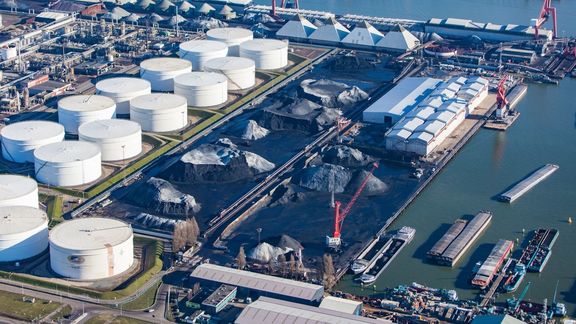 The dimensions of the new complex are particularly impressive. A total 126,000 cubic metres of covered storage capacity has been added, bringing EBS's total capacity in Rotterdam to 650,000 cubic metres. What is unique about this warehouse is that the client Hudig & Veder has not only signed a long-term contract for the hire of the largest portion of this storage capacity but has also provided 25 per cent of the financing for the new development. 'By becoming co-owner, we can coordinate with EBS in offering increased customisation to our clients', explained Hans Lagendijk, Gans Cargo Operations Manager (part of the Hudig & Veder group). 'This strengthens our market position as well as Rotterdam's attractiveness as logistics hub for products including minerals, biomass and calcined pet coke.'
Bauxite and bentonite
The area that Hudig & Veder are using is divided into ten 3,500-cubic metre compartments and seven 5,000-cubic metre compartments. One of these compartments has a covered transit to an adjacent 20,000-metre warehouse in which moveable internal walls can be used for the separate storage of various minerals and biomass. 'This new storage facility enables us not only to be flexible, but also to store the various consignments clean, dry and free from contamination', stated Henk Hoepel, Manager at Hudig & Veder Bulk. 'That is important, because we mainly work with high grade minerals and clay types including bauxite, bentonite and perlite. Our clients often only use small quantities of these as part of their production processes. We manage the stock in Rotterdam and forward this, generally by barge or truck, to interim storage in the vicinity of factories in Germany, Austria, Belgium and Northern France.'
Hatch system
One of the fantastic, innovative aspects of the warehouse is that it is equipped with a hatch system that EBS itself developed. With one push of a button, the crane operator can open and close the correct part of the warehouse, enabling bulk goods to be stored in the warehouse directly from the vessel, without any form of transport being required. And canopies on the outside of the warehouse mean that trucks can continue to be loaded as normal during rainy weather, which was not possible before. This makes the processes in and around the warehouse much more efficient.
Bulk-handling crane
As well as the warehouse construction, investments have been made in a 50-tonne mobile Gottwald 6 bulk-handling crane. The shell bucket contains a calibrated electronic weighing system. Hoepel: 'This is a huge improvement compared with the traditional method of determining weight, via barge gauging and draught survey. The precision is unparalleled. And that's extremely important if you're working with expensive minerals.'
Energy transition
EBS shares the enthusiasm regarding the new storage and crane. 'It's a fantastic combination', stated Jan de Wit, General Director of EBS. As well as the capacity used by Hudig & Veder, EBS has realised a further 40,000 cubic metres in the new complex, which is already being used to the full. 'The warehouse is also a fantastic symbol of the transition we're making as stevedoring company. Whereas everything used to revolve around coal, we're now working at lot with other products, such as minerals, agricultural bulk and biomass. We're part of the energy transition.'
Steel industry
This does not mean that coal is no longer forwarded to sites belonging to the daughter company of HES International B.V. in Laurenshaven and Europoort. 'Coal is used much less for energy generation, but the steel industry still uses it.'
Food & feed
EBS isn't intending to rest on its laurels now that the new warehouse has been completed. The plans and preparations are going full steam ahead. De Wit: 'We hope that, in dialogue with the Port Authority, we will soon be able to increase the depth at Warehouse 6 to twelve metres. This will also offer many opportunities for efficient supply and distribution. We will also be working with Hudig & Veder to examine the options for further expansion of the covered storage at Laurenshaven terminal.' Moreover, construction will also be starting soon at the Europoort site. 'We want to develop a new warehouse there with 50,000 cubic metres of capacity for 'food & feed'. This includes such things as soya flour, corn, wheat and grains. This is of course something completely different, but it is a good demonstration of our company's diversity and the options offered by Rotterdam as leading European logistics hub.'