Sustainability
Will there be a time when we can board a plane with a clear conscience for a vacation or business flight?
29 June 2021
This is certainly the expectation at the Finnish company Neste, the world's largest producer of renewable diesel Neste is currently producing 1.5 billion litres of renewable diesel annually in the port of Rotterdam, and soon it will be producing sustainable aviation fuel as well. 'The time is ripe for our product.' The investments certainly back up this claim. The company has set aside around 190 million euro to prepare the refinery on the Maasvlakte for the production of what the aviation sector calls Sustainable Aviation Fuel. 'A major advantage of this fuel is that in its neat form, it reduces greenhouse gas emissions by 80 to 90 percent compared to traditional kerosene,' says Bart Leenders, Neste's Vice President of Production. 'No fossil fuel products are involved whatsoever.'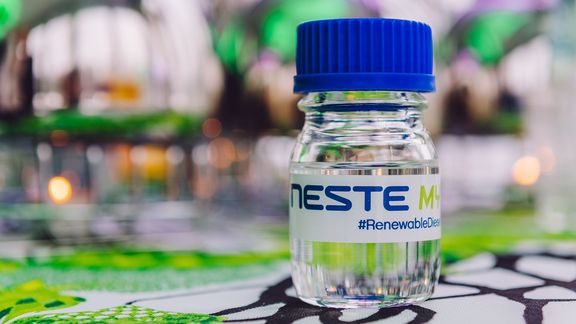 Acquisition
Neste makes aviation fuel from waste products and residues such as used cooking oil and animal fats from the meat processing industry, collecting these ingredients from across the globe. According to Leenders, Neste wants to continue to play a leading role in the renewable fuels sector. But an ambition like this requires investments that will enable the use of more waste products and residues as raw material. 'That's the reason behind our acquisition of the nearby Bunge refinery. The Bunge refinery is going to play a crucial role in the purification and pre-treatment of our raw materials.' Leenders is convinced that renewable fuels are going to play a major role in making the economy and aviation more sustainable. With this in mind, Neste is going to build yet another production facility in Rotterdam. This new facility should instantly double the production capacity for renewable fuels and raw materials for chemicals. The intended investment of roughly 1.5 billion euro will have a considerable impact. Building the production facility will create more than 100 direct jobs and more than 4,500 man-years of work. But most importantly: it will result in an additional saving of approximately 3.5 million tonnes of CO2 emissions annually. That achievement is in line with the ambitious target Neste has set itself. By 2030, the company, together with its customers, wants to have reduced greenhouse gas emissions by at least 20 million tonnes. A milestone was already reached this past year with a reduction of 10 million tonnes. The definitive decision to invest in building the new production facility will be made at the end of this year or in early 2022. Leenders is optimistic: 'We've always had the courage to invest ahead of the market, and this is the right time to do it.'
Circular economy
From Leenders' perspective, the COVID-19 pandemic was a key turning point for the circular economy, including the aviation sector. 'Expectations are that the aviation sector will soon start growing again, and this growth comes with a clear challenge: more flights must not result in increased emissions. So you have to invest in lower emissions, and legislation is being prepared to achieve that. The first step is blending sustainable fuel with jet fuel. The next step is flights powered exclusively by sustainable fuel. From a technical point of view, it's possible.' Leenders sees an increasing sense of urgency throughout the entire chain to tackle emissions. One reason for this is that sustainability is a rising force as a competitive factor. More and more small corporate aviation carriers are joining the ranks of those who want to distinguish themselves through using more sustainable fuel. Larger airlines like KLM are also realising they have to switch over. On top of this, many European and North American airports are preparing their infrastructure for the new era. 'The idea has taken flight.'
Leenders feels that the government has an important role to play in all these global developments. 'Regulation is necessary for making the step to an affordable market product. We've seen it happen in road transport. In that case, a legally regulated blending obligation accelerated sustainability in an economically sound manner.'
The multinational Neste is now the world's largest producer of renewable diesel. In ten years time, it has transformed from a traditional petrochemical company into a frontrunner in sustainability. Meanwhile, Neste has production facilities for renewable fuels in Finland, Singapore and the Netherlands.
According to Leenders, the associated infrastructure has kept pace with these developments. 'These days, you'll see Neste MY Renewable Diesel at more than a hundred service stations throughout the Netherlands, including the Rijnmond region. You can instantly contribute to a cleaner planet without it even costing that much more. Neste MY limits CO2 emissions by 80 to 90 percent, and particulates are reduced by 30 percent compared to fossil diesel.'
Leenders sees the use of Sustainable Aviation Fuel poised to soar in the coming years. He refers to all the carbon offset programmes major airlines now have ready for their business travellers. And he thinks that regular tourists are also becoming more aware of their ecological footprint. 'We've observed this from all the questions consumers are asking about Neste MY.' The aviation industry has set itself global targets to reduce greenhouse gas emissions. For example, the industry has already committed itself to carbon-neutral growth and halving CO2 emissions by 2050.
Link
In Leenders' view, sustainable aviation fuel is the only feasible alternative to fossil fuels. 'The Port of Rotterdam is an extremely attractive region that facilitates Neste's role as a link in the chain towards further shaping that circular economy.'
This article will be published in the AD supplement 'De aanpak'. This is a publication of ADR Nieuwsmedia in cooperation with the Platform Transities Rotterdam, and made possible in part by Deltalinqs, Eneco, the Port of Rotterdam Authority, Rotterdam University of Applied Sciences, and Woonstad Rotterdam.