Energy transition
Worldwide advance of small wind turbines from the port of Rotterdam
26 January 2021
Green carpet to the future #1: Flower Turbines
They have the shape of a flower, are 1, 3 or 6 metres high and can take on any colour. Put them on your motor home, house, business premises or car park and voilà, even with little wind they start to turn and provide power.
The wind turbines of Flower Turbines are making rapid, global and sustainable progress. Director Roy Osinga: "Flower Turbines are an excellent way to contribute to the energy transition, including in the port of Rotterdam." Zo komt er een turbine van 6 meter in de Amaliahaven op de Tweede Maasvlakte. Osinga: 'Daarvoor werken we nauw samen met het Havenbedrijf Rotterdam. De turbine gaat duurzame stroom produceren voor verschillende toepassingen in de haven, waarschijnlijk vanaf het tweede kwartaal van 2021.'
What explains the rapidly increasing success of the turbines? From the green carpet on the grounds of the Rotterdamse Droogdok Maatschappij (RDM), an enthusiastic Osinga tells us: "We are facing the major challenges of the Green Deal. The energy transition is really buzzing now. Companies but also individuals want to do something and are looking for solutions. We offer them the opportunity to generate energy even when the sun is not shining. The major energy transformation is already underway, sometimes with smaller companies in the lead. For them, sustainability is already much more self-evident than for some large energy consumers and polluters."
On roofs or car parks
The Flower Turbines work differently to the wind turbines we are used to. Osinga: "This is due to the aerodynamic design, the 2 rotor blades inside and the blade ratio. They make it possible to extract some of the energy contained in the wind and convert it into renewable electricity. The turbines work from any wind direction and start relatively quickly. In this way, the wind turbine achieves many more hours of operation and thus a higher yield."
"The output of a turbine depends, of course, on aerodynamics, size and how strong the wind is. With the two 3-metre turbines, you can power a substantial part of a house. The 6-metre turbines are a good option for larger-scale or commercial power generation. Placing these turbines in clusters close to each other increases productivity. So it is very suitable for companies with strong roofs or open car parks, for example."

But the wind turbines bring even more benefits. Roy: "They are so quiet that it is really easy to work or live next to them. They do not cause any cast shadow and they are bird-friendly. This sets them apart from conventional windmills. Because the turbines can easily be placed on roofs and in the built environment, there is no need to use land or water for them. In short, they have less impact on the living environment, partly because they make less noise."
Inspired by nature
The idea behind Flower Turbines was born almost 8 years ago and conceived by Israeli Daniel Farb. He signed up for PortXL, the Rotterdam start-up programme that helps innovative and sustainable companies move forward. After a successful pitch in the Netherlands, he came into contact with Roy Osinga. Osinga is a business economist and entrepreneur, and has previously worked for and with government organisations, companies and tech start-ups in the fields of ICT, construction and sustainability. Osinga became enthusiastic and decided to take the step together with Farb and make Flower Turbines big in the Netherlands and Europe. In 2019, the company settled at the RDM.
But why do the turbines refer to a flower? Osinga explains: "Daniel's parents come from the world of art and science. I am also inspired by nature and as a sailor I know the power of the wind. This combination of technology and art is reflected in the design. And with the organic lines, the wind turbine looks like a tulip. At the same time, of course, it is a fantastic symbolic export product."
Things that matter
For Osinga, his cooperation with Farb was a logical step: "I have spent my life working for organisations that were shaping transitions. I like to be involved in things that matter. When you start a new business, it is hard work but it is very satisfying. It is very nice how everything is coming together and how we are now taking steps with the team."
Since last year, the fame of Flower Turbines has spread quickly. There are orders from all over Europe, but there is also growing interest in the United States. Osinga: "A year ago, there were just the two of us - Daniel and I. Now the permanent team consists of 10 people and we are in the transition phase from start-up to scale-up. A lot of money is needed to make the turbines in large numbers. With crowdfunding, we managed to raise almost €2 million."
Manufacturing companies that dare
How do you like the RDM? Roy: "The RDM is a real innovation hub where you can easily come into contact with other experts in the field of technology. The components for our products are manufactured externally at various factory locations. But here, at the RDM, we are working hard on new developments. We are surrounded here by other companies that do and dare. That fits in well with us. The manufacturing industry is rightly on the rise. What international political developments and Covid-19 have taught us is that we still need to cooperate internationally, but we also need to be able to fend for ourselves more. By investing in the manufacturing industry, we become less dependent on others. The RDM is playing a pioneering role in this."
Golden tulip
To whom do the wind turbines belong? Osinga: "The 1-metre turbines are mainly used by private individuals but also by SMEs; several have already been delivered. The 3-metre turbines are also being delivered. The first 6-metre turbine will be ready for testing in early 2021. That is another big leap forward! The larger turbines come from governments, organisations and entrepreneurs. Governments make an active contribution to sustainability by joining us in showing how it can be done. Sustainability is also high on the minds of some entrepreneurs in the port. You see that they want more and more. But other entrepreneurs, too, for instance there will be a gold-coloured turbine on the roof of an apartment building. The developer especially wants to inspire in a beautiful way and show others that you can generate your own energy with wind."
Hybrid system energy generation
According to Osinga, we need to combine smartly. "There is no single solution. The solution is the mix of means. Solar panels contribute to clean energy, but they are of little use at night. Batteries are still expensive and certainly not always sustainable. The Flower Turbines are therefore a good addition to the panels. I think we are moving towards a hybrid system of generating energy. Whereby you get energy partly from central facilities, partly from geothermal energy (ground-source heat and geoheat) and partly from your own facilities, such as panels and turbines."
"I am in"
The turbines also have an inspiring effect, according to Roy: "It is great that people are happy with our products. That gives a lot of positive energy. Small wind turbines can solve part of the energy problem. That inspires many people and that value should not be underestimated! This is how companies show: I am in. That can inspire other companies to take those steps as well. I think that really acts as a catalyst and that value is greater than just the turbine yield."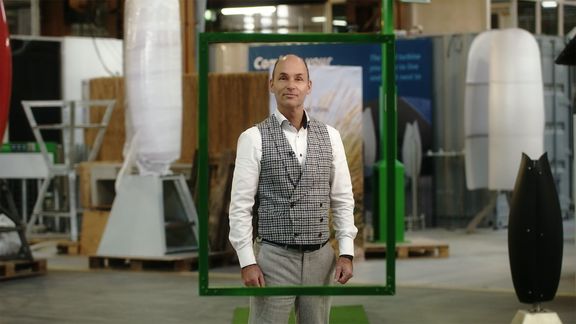 Nature conservation
What would Roy like to see different or better in the port of Rotterdam? "We really need to conserve nature and biodiversity in the port area. Let us generate the energy needed for the built environment and industry as much as possible in the same built environment. And with conservation of nature! By installing solar panels in grasslands, we are also making our mark there. The city has been cultivated by us. We have already taken that space away from nature. Our quiet and easy-to-install turbines fit naturally into the urban landscape. In this way, we help nature to maintain its own space."
Tips for other companies
"In addition to the Flower Turbines, we also develop and supply solar and wind energy charging products for bicycles, scooters and mobility scooters. You can use it on and off the grid*. In this way, as a company, government or organisation, you complete the energy circle."
*On-grid: with a connection to the energy network
Off-grid: completely independent from a power grid