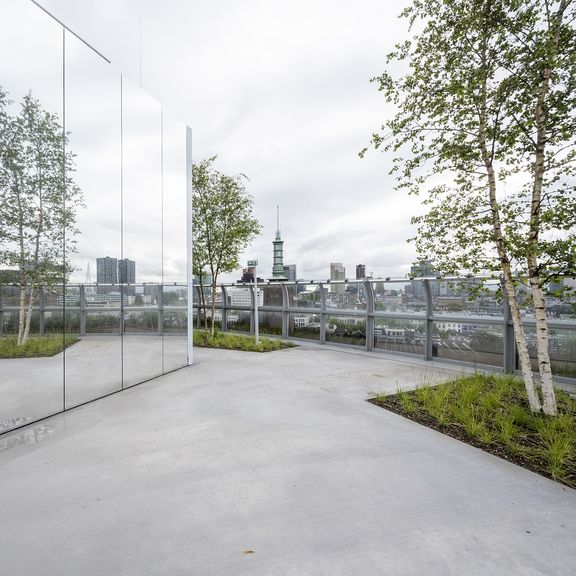 Roof garden with trees on reflective Boijmans van Beuningen art depot
#rotterdammakeithappen
You will only hear the city sounds of Rotterdam from a distance on the roof of the new art depot of the Boijmans Van Beuningen museum in the Museumpark. What you will hear though, is the rustling of the trees. "The sensation up here is that you are walking in a forest until you reach the next vantage point", says Arjen Ketting of the MVRDV architect bureau.
"Every building I design tells a story, of which you, as a visitor, are a part". This is the signature of Arjen Ketting. As an architect with the MVRDV bureau, he has led the project, for which Winy Maas was the architect, to build the almost 40 meters high art depot that opened its doors to the public on the 6th of November. Standing on the roof of the Depot, Rotterdam resident Ketting explains the background to the building project: "Typically, museums exhibit only 6 to 7% of their total art collection.
"This is only possible in Rotterdam"
Arjen Ketting
,
Architect
,
MVRDV
The remainder of the collection is often stored in cellars, entailing the risk of flooding. Sjarel Ex, the museum director of Boijmans Van Beuningen, wanted to make all of the museum's collection – including stored items totalling no fewer than 151,000 artworks – accessible to the public. He also cherished another wish, that the new art depot should not be a nondescript bunker on an industrial estate". Having won the relevant competition, the MVRDV architect bureau was entrusted with the commission to design the Depot in 2013.
Breathe. Walk. Die.
These are the three words that artist Iwan Smit (32) has painted at the top right-hand corner of his 2017 artwork: The Mystical Birth of Rotterdam. The Depot of the Boijmans Van Beuningen museum commissioned and bought this more than 4 meter high and 3 meter wide work of art.
Make it Happen
An attractive city contributes to an attractive port. A variety of parties have banded together under the joint city marketing pay-off 'Rotterdam – Make it Happen' to raise Rotterdam's profile even further, both in the Netherlands and internationally. This shared slogan reflects Rotterdam's characteristic can-do approach, and expresses what the city, the port and its citizens stand for: a pioneering spirit, a broad horizon, a desire to break new ground and a no-nonsense mentality.
Other articles in this edition