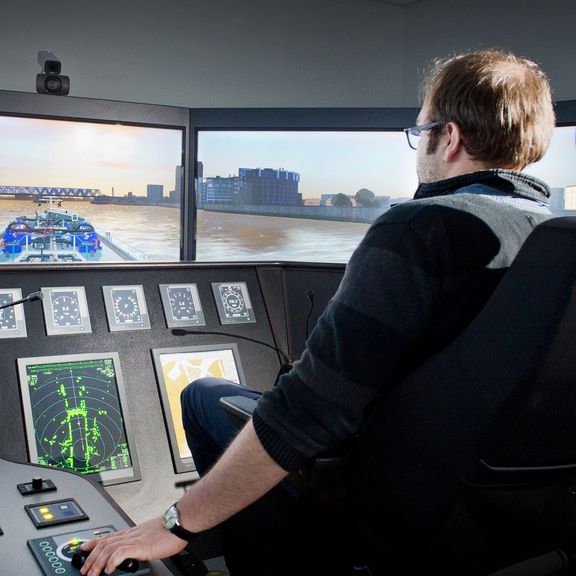 Sail round the world with virtual navigation
#smartthinking
24 January 2022
The Netherlands is a world leader in maritime technology. Many companies at the port of Rotterdam are dedicated to expanding the field. One of these companies is VSTEP Simulation, developer of maritime simulators and software for training purposes. Port of Rotterdam Authority is using these solutions to train commanding officers for its vessels.
As former developer of naval simulation games, VSTEP started building maritime simulators in 2011 – at first only for maritime navigation, but later also for inland navigation. The simulators have been used by shipping companies, maritime training centres and schools all over the world. Starting this year, the Shipping and Transport College Rotterdam will be training students on NAUTIS inland navigation simulators built by VSTEP. These will allow students to virtually navigate all the oceans and rivers of the world onboard a vessel that meets their training objectives. From small fisheries craft to a 400-metre-long container ship. This software also offers a fantastic solution for training pilots, who have to safely pilot vessels in and out of the port even under difficult weather conditions or when there's a lot of traffic congestion.
Drone innovation programme
The Port Authority uses drones more and more. There are many possible applications: deployment at incidents, water pollution and fire fighting, surveillance and inspections, monitoring of port operations and inspections of terminal installations. In order to further explore and broaden the application possibilities of drones, we have set up the Drone Port of Rotterdam innovation programme. Last October we tested a long-range drone in the port area. Later this year more test flights will be planned.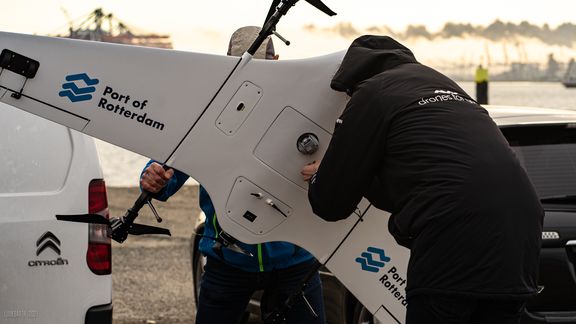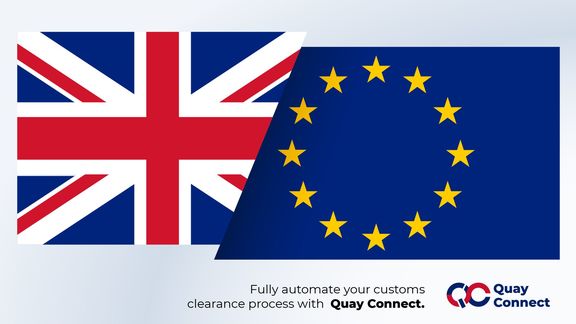 Digital service for smooth export to the UK
Each year, around 40 billion euros worth of freight are exported from the Netherlands to the United Kingdom (UK). Since Brexit, this has become a lot more complicated and time-consuming. As of 1 January 2022, the UK has significantly tightened the customs formalities. It was for this reason that a new service called Quay Connect was developed on Naviporta, the independent blockchain platform for the logistics industry.
Other articles in this edition